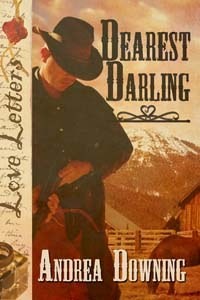 When Emily Darling intentionally reads a letter left on her doorstep, but addressed to Ethel Darton, it becomes more than a mistake in postal service. It becomes a chance of escape from her over-bearing brother. The letter, starting with the greeting "Dearest Darling" captivates her heart and hopes. What kind of man would write such an endearing and tender letter? He is obviously in need of companionship, living in the wilds of Wyoming, and is making travel arrangements for his mail-order bride. But wait, there's more: a train ticket to Cheyenne with instructions to take a stagecoach to Jackson Hole where he will meet her.
From the letter she learns these two have never met, but that Ethel Darton has sent a picture of herself in an earlier letter.
When Daniel Saunders meets the stagecoach on the appointed day, he meets an imposter, someone who has taken advantage of a free train ticket. He's outraged. But what is he going to do? He can't leave her in town, alone, with no means of supporting herself. He needs time to sort this out.
A novella, Dearest Darling is a delightful read, cleverly paced with seemingly insurmountable complications, and realistic, convincing dialog. Details of Wyoming ranch land enhance the story, giving the reader an exciting view of yesteryear's west.
To learn more about the author, visit http://andreadowning.com/