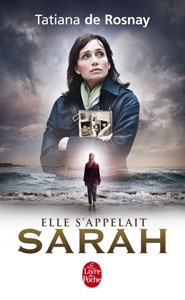 In 1942, Sarah, ten years old, was frightened when she and her parents were rounded up in the middle of the night by French police. Her younger brother, only four years old, refused to go and Sarah helped him hide in their secret hiding place, believing they'd only be gone for a short while and then return home.
A multi-layered, well-crafted novel, Sarah's Key by Tatiana De Rosnay alternates between 1942 France and present day. The story evolves around the true events of the dark period in France's history where thousands of Jewish families were rounded up and forcibly kept in the Velodrome d'Hiv, eventually taken to transit camps and finally packed off to Auschwitz.
Even before the roundup, Sarah realizes grim changes in her homeland. Jews are required to wear yellow stars on their clothing, even to school. They are no longer allowed in some stores and restaurants, places of business are closed, leaving many Jews without income. The year 1942 signaled dark times for Jews, but they had no idea of the horrors that awaited them.
Julia Jarmound, a present-day American journalist living in France with her French husband and daughter, investigates the little known Vel' d'Hiv Roundup of Jews, conducted and enforced by French authorities in the heart of occupied Paris under Nazi Germany command.
When Julia uncovers truths that took place in 1942, she is consumed by Sarah's story. Even when she discovers secrets about her husband's family and stirs up resentment of repressed guilt, she is compelled to seek the truth about Sarah.
Sarah's Key is a moving novel that delves into a little known piece of history now often referred to as France's Dark Years. The author's handling of the two time periods is flawless, her characterizations vivid.
For more information about the author and her work, visit http://www.tatianaderosnay.com/