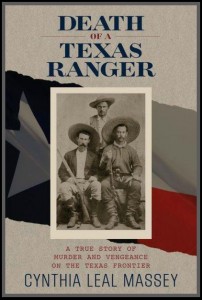 Life was precarious on the Texas frontier in the late 1880's. The Civil War had left chaos with political and cultural clashes. To help keep order and to protect early settlers, the Texas Rangers was formed as a state militia.
In 1873, Sergeant John Green was shot and killed by a Ranger under his command, Cesario Menchaca. Death of a Texas Ranger: A True Story of Murder and Vengeance on the Texas Frontier by Cynthia Leal Massey delves into this incident with meticulous research and an enjoyable style.
Justice is constantly thwarted as Sergeant Green's killer is protected by Mexico's refusal to extradite Cesario Menchaca.
In the meantime, Texas was drawing the attention of those interested in the natural sciences in the nineteenth century, an era referred to as the Age of Darwin. Gabriel Wilson Marnoch became a frontier naturalist who discovered new reptile and amphibian species. In addition to snake bags and specimen jars, Marnoch also carried a secret involving Sergeant John Green's death.
Years later, John Green's son, Will Green, now Chief of Detectives for the San Antonio Police Department, while seeking justice for his father's death discovers missing records and contradictory accounts of the crime.
Author Massey, a Texan, does a remarkable job capturing the essence of post-Civil War Texas and of fitting together the many pieces of the mystery surrounding the death of Texas Ranger Sergeant John Green.
To learn more about this award-winning author, visit http://www.cynthialealmassey.com/