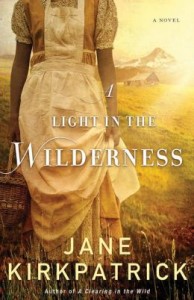 A Light in the Wilderness By Jane Kirkpatrick
For an African American woman, being free in 1844 Missouri doesn't mean the same as it does for her employer. But Letitia IS free and, although she can't read it herself, she has the paper to prove it. She even owns her own cow, Charity.
Letitia finds herself at odds with her employer and her plans to go to Oregon with them are abruptly changed. She seeks help from Davey Carlson, an Irish-born former mountain-man, who helps her retrieve her cow. Letitia and Davey form an understanding, and together they join a wagon train bound for Oregon.
Along the way Letitia forms a strong friendship with a fellow traveler, but many of the immigrant women treat Letitia as an inferior. Still, Letitia holds her head high, shares her supplies, acts as midwife when needed and keeps the campfires going for Davey. She's free, and even owns a cow that gives precious, life-saving milk. The journey is long and treacherous, but Letitia sets her sights on living in a place where she'll be truly free.
Threaded into the story is an Oregon Kalapuya woman and her grandson. The Woman teaches her grandson the Kalapuya way and watches as he becomes knowledgeable in their traditions. Soon she'll have another to teach, a woman whose color is like burned seeds.
Once the grueling journey west is complete, Letitia and Davey find that Oregon isn't as open-minded as they expected. There are still people who would take advantage of her status and not recognize her entitlements. Her friend from the Oregon Trail lives a short ride away, and she cherishes that friendship. Letitia and Davey work hard making a real home for themselves, but will that security endure the scrutiny of those who still see her color as inferior?
I found A Light in the Wilderness a wonderful addition to Jane Kirkpatrick's many historical novels. The book is based on a true story. Kirkpatrick captures the strong bond between women, the stark fear of a person striped of her basic rights, and the land which holds so much promise. It's a story of love and betrayal, of strength of character, and of courage dredged up of necessity.
Jane Kirkpatrick is a New York Times and CBA (Christian Booksellers Association) bestselling author who has won several awards for her many books. To learn more about the author, visit www.jkbooks.com