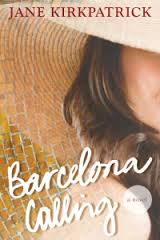 When writer Annie Shaw attempts to attract Oprah's attention to her book, her efforts become a charade of misadventures. Annie recently had a romantic experience while visiting Spain, and her book is roughly based on that experience. The problem is, real life gets in the way of fiction.
Barcelona Calling: A Novel is a departure from other works of Jane Kirkpatrick who is known for her award-winning historical fiction. It took a little adjustment on my part to settle in with this "different" Jane Kirkpatrick, but once adjusted, I found the story an enjoyable read.
In addition to the main character's quirks and passion for her work, the novel holds many of life's truths applicable to more than authors. For instance, "…fame is a door best opened without pushing." As a writer myself, I could relate to Annie Shaw's efforts to promote her work, trying to find that elusive "bestseller" status. I sympathized with Annie's efforts and drew comfort knowing that success isn't always what it seems.
Barcelona Calling is a fun, enlightening novel. To learn more about the author, visit http://jkbooks.com/