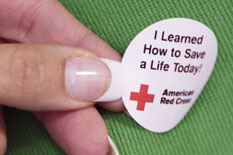 Snohomish County has heroes that most of us never hear about. Each year the Snohomish County Chapter of the American Red Cross honors these heroes by hosting a breakfast celebration. Held at the lovely Tulalip Resort Casino, about nine hundred people attended the gala event. As in the past, the Tulalip Resort Casino served a scrumptious breakfast. Humorous inspirational speaker Pat Cashman served as Master of Ceremonies.
Following are the featured Real Heroes of 2012:
Snohomish County Volunteer Search & Rescue On May 19th the Search and Rescue, a non-profit organization, received a phone call that a 13-year old boy had fallen into the river above Wallace Falls. He had been carried over one waterfall and was only a few feet from plunging down a 265-foot drop. The boy had managed to climb onto a one-foot wide rock The team immediately responded. They first tried to reach the boy by helicopter, but an overhanging rock prevented them from reaching him. After several attempts at repelling down to the boy failed, the final solution was for the team to anchor a fire ladder across the river. The team was able to get the boy into a harness and off the rock he clung to.
Robert Bentz On his way to drop off his 16-year old son Roudy at school, Robert Bentz saw that they were about to be struck head-on by a man driving what they later learned was a stolen car. In the split second of seeing the oncoming car, Bentz cranked the steering wheel as hard as he could to put himself in the path of the speeding car, in order to spare his son injury. He awoke at Seattle's trauma center, Harborview Hospital, with a broken jaw and extensive loss of teeth, severe spine injuries, massive leg trauma and fractures. Robert's heroic actions spared Roudy from serious injury, exactly the outcome he'd hoped for.
Sam Simball came to the aid of his 69-year-old neighbor, Dick Thibert, who had suffered a stroke. (The boy's age wasn't given, but I assume he was about 14 years old.) On March 8th, Thibert's wife called the Simball residence to ask them to check on her husband. She had been trying to call him, but he wasn't answering the phone. Sam ran next door and looked through the window and could see Thibert lying on the floor. The door was locked, but Sam kicked in the door. Sam's mother called 911 and Thibert received the help needed to save his life.
Sgt. Bill Lange & Officer Mike Braley responded to a 2:00 a.m. Everett house fire. They learned from Dispatch that a female confined to a wheelchair was unable to get out of the burning house. They tried multiple times to break the glass door to reach the victim. They finally managed to break the glass and reach her. Although all three suffered from smoke inhalation, Lange and Braley's actions saved the life of the elderly resident.
Bob Esmay and Gene Pierce, friends and neighbors for more than 40 years, were fishing in Puget Sound near Mukilteo. Bob heard Gene mutter, "Oh, my God." Thinking his friend had already caught a fish he turned to take a look, but instead saw his friend slumping to the deck. Bob caught his friend, but panicked when he couldn't feel a pulse. As he dialed 911, he began performing chest compressions, all while steering the boat toward shore. Members of the Mulilteo Fire Department met them on shore and were able to stabilize Gene for transport to the hospital. Due to Bob's heroic action, Gene is alive today.
But there's more to the story. Two years ago, Bob and Gene were returning from an outing when Bob suddenly suffered a heart attack and passed out as he was driving his car. Gene reached over and managed to steer the car to the side of the road, then moved his semi-conscious friend over and jumped behind the wheel to drive him to the hospital. These two close friends owe their lives to one another.
Chris Robertson, Tim Browning, Craig Rankine, Juan Lira and Stan Boyle were climbing near Luna Peak in the North Cascades when another member of their team, Kevin Weed, lost his footing when soft snow gave way. During the first 800 feet of his fall, Kevin unsuccessfully tried to stop the slide with his ax. For the last 400 feet, he was in an unconscious free-fall tumble which ended when he slammed into rocks. Fortunately, two other nearby climbers were able to use a spot beacon that could send out a message for help. As Kevin's climbing companions reached him, they began assessing his condition and making efforts to keep him warm and to prepare him for airlift evacuation. Six hours later he was airlifted to Harborview Medical Center where he made steady improvement and in less than two weeks returned to his home in Snohomish.
Kim, Talley & Jacob Anderson and Travis Anderson were floating in the Pilchuck River when a strong current grabbed Travis' legs and carried him downstream, wedging him underneath a log. His mother Kim screamed and his sister Talley went for help. Kim and Jacob tried to free Travis but the log could not be budged. They could see Travis drowning before their eyes. Tally found a man nearby who was able to use his added weight to help move the log. Once Travis floated free, Kim immediately began CPR. When emergency crews arrived, Travis and the family were rushed to Children's Hospital where Travis remained for three weeks. Travis would not have survived had it not been for his mother's knowledge of CPR and his siblings' quick actions.
Phil Gaston was midway through his route as a waste truck driver when he noticed a man in distress with a profusely bleeding leg. Phil grabbed a roll of paper towels from the truck and started applying direct pressure to the man's wound. It became apparent he couldn't apply enough pressure to staunch the bleeding. He took off the man's belt and applied it as a tourniquet. All the while the man was on his cell phone and Phil realized the man was trying to give the 911 operator directions to the location. Phil took the phone and gave the operator directions and stayed with the victim until paramedics arrived. Later it was learned that the resident had cut an artery with a box cutter while working in his garage just seconds before Phil arrived.
Geri Kellison and Ian & Katie Duncan. Geri Kellison and her husband Ed were enjoying an evening in their hot tub when Ed suffered a heart attack and collapsed. Geri tried to pull him out, but she couldn't manage his weight. She screamed for help as she held his head above water. A neighbor came to their deck and Geri yelled for him to call 911. At the same time another neighborhood couple, Ian and Katie, arrived. Katie grabbed Ed's arms and Ian took his feet and together they lifted him out of the tub and onto the deck. Katie had been trained as a lifeguard and quickly began CPR and continued until EMT's arrived. Ed was treated for ventricular fibrillation and is now doing fine, thanks to his wife and neighbors.
Dr. Ellen Farrokhi, George Litz & Dr. Mohammed Quraishi. Dr. Farrokhi was on-call when she received a page from the hospital about a patient who needed emergency surgery for a burst aortic aneurysm. Emergency surgery was needed as the patient was bleeding to death. Dr. Farrokhi got into her car and sped to the hospital. The doctor soon noticed a State Patrol car with its lights flashing, obviously intending to pull her over. She called 911 to let them know she was a surgeon and needed to get to the hospital immediately or her patient would die. She continued on, deciding that a man's life was more important than consequences from speeding and not pulling over. She soon noticed three patrol cars pursuing her, all with flashing lights. She realized she had no choice and pulled over. Luckily she was still able to make it to the hospital in time. Her team, George Litz and Dr. Mohammed Quraishi, had prepped the patient for surgery. The surgery was successful, thanks to Dr. Farrokhi's willingness to put the patient above all else.
To learn more about your American Red Cross, visit www.redcross.org