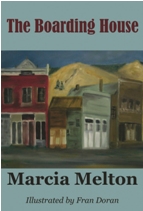 Marcia Melton's The Boarding House (Raven Publishing) brings the early 1900's to life. Although listed as a Young Adult novel, adults will also love this slice of Montana history.
When eleven year-old Emmie Hynes' father dies in a mining accident, her world changes forever. In those days, mining companies didn't take financial responsibility for families of injured or killed miners. The small family–her twelve year-old brother Conrad, her mother and Emmie–move from Butte to a small town across the mountains to Philipsburg, Montana to run a boarding house.
The family scrapes by. Conrad's slacking off of chores comes to an abrupt halt when his scheme to earn money backfires. Both children support their widowed mother, still fragile from their father's death. In addition to running the boarding house, Emmie's mother works with mine officials for financial benefits for families of miners. In addition, Emmie's mother also supports the growing suffrage movement and takes her children to rallies.
When the owner of the boarding house dies, it looks as though the little family will lose their new-found security. Although the children try to be helpful, there is no way they can close the looming financial gap that faces them. How will this family survive?
The author's library and teaching experience serve her well. The Boarding House
is written with knowledge of the life and times of the era. The novel is a fun read, yet readers are reminded of many things we now take for granted, such as workers' compensation and women's right to vote. This excellent story was inspired by the experiences of the author's mother and uncle. I recommend this novel for all ages.