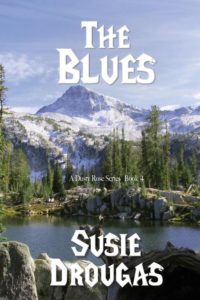 Hang on to your cowboy hat for this action-packed contemporary western novel by Susie Drougas.
When Attorney Dusty Rose accepts a wrongful death case, he's excited that he can combine business with pleasure since the location of the incident is the Eagle Cap Wilderness in Oregon. Together with his private investigator, Mike, who also happens to be Dusty's riding side-kick, they load up the horse trailer and drive from the greater Seattle area to where the death occurred.
The case involves a couple who had made arrangements with an outfitter to celebrate their anniversary by taking a picnic lunch to the peak of the Eagle Cap. From their base camp, they rode horses as far as they could, but then planned to hike the last 500 feet to the peak. During this stretch of the trip, the woman fell to her instant death. The widowed husband was now suing the outfitter for wrongful death.
On the way to meet the outfitter and investigate the scene, Dusty and Mike stop at a bar for dinner, the only place open at that time of night. They encounter a beautiful young woman, Stevie, and there is an instant attraction between her and Dusty. It's a regrettable encounter because Dusty already has a wonderful woman in his life, a fellow lawyer, and he instantly regrets his lapse in good judgement. But the damage is done.
The next day Dusty and Mike talk to the outfitter and ride their horses, then hike, to the scene of the accident. Later, they talk to the widowed husband, but are puzzled by the conflicts and inconsistencies of the various stories.
The Blues, a name which refers to a location in the book, is rich in landscape descriptions and of wilderness horseback riding. As a real-life court reporter, the author also exhibits professional knowledge of legal procedures, which add significantly to the realism of the story.
The Blues is the fourth of the Dusty Rose Series. To learn more about the preceding novels and the author, visit http://www.susiedrougas.com/.