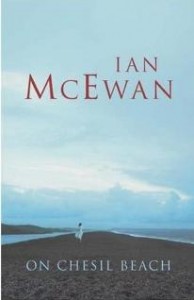 On Chesil Beach (Anchor Books), a novella by Ian McEwan, is a burst of fresh air, a book that swiftly moves along and took my heart with it.
Both virgins on their wedding night, Florence and Edward can only imagine what the evening will hold. They eat dinner in the honeymoon suite as they gaze out onto Chesil Beach. Florence tries not to think about what will soon happen; Edward hopes he'll know what to do and when to do it.
The book, set in England in 1962, flashes back to when they met and how their love gradually blossomed. Although a university graduate, Edward's vocation was still illusive. Florence, however, never doubted her choice as a professional musician. Their differences melt away as their love develops.
Back to their wedding night, Edward anxiously begins to make love as he has so often fantasized. Florence, overwhelmed with this sudden closeness feels herself mentally backtracking. The inevitable plays itself out, but not as they expect.
I found this small book haunting, yet filled with compassion. McEwan is a master at detachment while evoking intimate details. On Chesil Beach is a profound novel, a story that demonstrates that what isn't said can transform lives.