Sailing with Impunity: Adventure in the South Pacific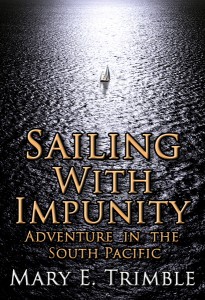 It started with a dream of an extended offshore sailing trip. Just the two of us. At first it seemed impossible, but as we investigated the different possibilities, our dream began to take shape. We had to make sacrifices, sell our home and buy a boat rugged enough for offshore cruising, and whittle down our belongings to the bare necessities. It all came together faster than expected and within a couple of years, we quit our jobs and set sail for the South Pacific in our 40-foot Bristol, Impunity.
It wasn't long before I realized my vision of a sailing journey was naive. Our first storm off Oregon's coast reminded us that sailing could be hard, dangerous work. It also proved to us that our boat was worthy of the task, and so were we. We had worked hard to prepare Impunity for the rigors of the sea and we were continually impressed with the boat's performance. We adjusted to the 4 hours on, 4 hours off watch system, meaning never getting more than 4 hours of sleep at one time. We knew how important it was that someone be on deck at all times.
Cooking at sea was tough, but we managed, and enjoyed good, nutritious meals, often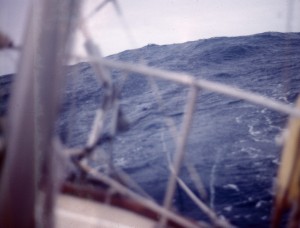 prepared on a rocking, rolling boat. Bruce had taught himself celestial navigation using a sextant, so the stars and sun were our guides. GPS was not yet commonly used at that time.
Before long we were in the tradewinds and luxuriated in the warm tropical climate. At sea we experienced amazing thrills and a few downright scary moments, from smooth sailing in perfect seas to ferocious storms. It was the experience of a lifetime. For days, weeks, we were the only boat in sight, from horizon to horizon.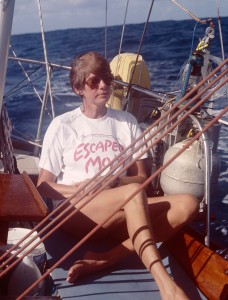 After 35 days at sea, our first landfall, the Marquesas Islands, were a heavenly sight to behold. After a few days, we sailed on to Tahiti for six weeks, spending most of our time on the out-of-the-way south coast of Tahiti. Then on to picture-perfect Bora Bora. We waited out the 5-month hurricane season in American Samoa's Pago Pago Harbor. We sailed to the indescribably beautiful Kingdom of Tonga, then beat against the wind to Hawaii, and finally, the smooth trip from Hawaii to Seattle. Along the way we experienced unimaginable adventures–some good, some not-so-good.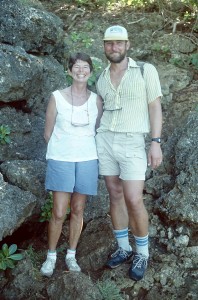 This was a life-changing adventure. As when we served with the Peace Corps in Africa, we wrote letters home, requesting that our letters be saved so that I could use them as a journal. Reading those letters brought memories flooding back. I remembered the seasickness when we first started out, the rolling, pitching boat, the struggles of cooking at sea. But then, our landfalls, meeting and making good friends among other sailors, and discovering the enchantment of the South Pacific. It was a dream, an adventure, and I am pleased to share it with you.
What others are saying about Sailing with Impunity:
"If you're one of the millions of people who have dreamed of casting off your everyday cares and setting sail for the south Pacific in your own boat, this is the book for you! Mary Trimble and her husband, Bruce, did what so many wish they could do. Her story of life on the lonely and dangerous sea and in Polynesian paradises will fire your imagination and fuel your fantasies for a long time. Their real-life adventure will make you wonder what you've been waiting for!"
—Robert H. Mottram, author of In Search of America's Heartbeat: Twelve Months on the Road, and other books

"Reading Sailing with Impunity slapped my limited sailing experience into proper perspective. I had no idea what it meant to really sail or to truly be a sailor until devouring this beautiful and often chilling memoir of a couples' unforgettable South Seas adventure. If you read nothing else this year, read this!"
—Mary Ann Hayes, author of Adeline and other books