Maureen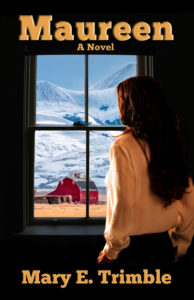 In my first book, Rosemount, a Young Adult contemporary western, sixteen year-old Leslie Cahill rebels when her widower father announces he's sending her to a private girls' school in Spokane. A good student and musically gifted, Leslie loves her ranch life and riding her beloved Appaloosa, Polly. In Rosemount's sequel, McClellan's Bluff, Leslie, then seventeen, is flattered when a neighboring cowboy, eleven years older, shows interest in her. He treats her like a woman, not just another kid. But danger lurks.
    Throughout these two Young Adult novels, the Cahill housekeeper, Maureen Gardner, plays an important role in the family.
    In the years following Rosemount's and McClellan's Bluff's publications I have often thought about Maureen and how life was for her on the Cahill ranch. Her story was yet to be told.
    In this novel, Leslie is seven when Maureen comes to the family; Leslie's brother Wade is seventeen. Their father John, still overwhelmed with grief from the tragic death of his wife and with the burden of managing the family, struggles to keep things running on their large eastern Washington cattle ranch. Maureen covers a ten-year period.
    This is Maureen's story. Some of the events presented in Rosemount and McClellan's Bluff are revisited in this novel, but seen through Maureen's eyes, and written with an adult's perspective.
Maureen has been such a fun book to write–I hated to see it end! I hope you enjoy reading Maureen as much as I've enjoyed writing it.