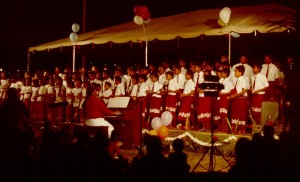 Excerpt from Sailing with Impunity: Adventure in the South Pacific
Christmas away from home is always a little sad. Some of our fellow yachties chose to fly home for Christmas, but we planned to remain in American Samoa where we were securely anchored for the hurricane season.
American Samoa is strongly Christian, so as Christmas approached, the Samoans definitely got into the spirit of the season with decorations and Christmas music on the radio. Apparently, separation of church and state wasn't a high priority. Local business people, government employees and bankers were expected to take time off from work to rehearse for scheduled Christmas programs. On several occasions we went to a particular store, or even the bank, and found it closed for a few hours during this season because the workers were attending choir practice.
For two weeks before Christmas, wonderful outdoor concerts were held every night at a park near Pogo Pogo Harbor, with various church, school, business and government choirs. We attended a program one night and were so impressed. Four different groups sang traditional Christmas carols plus other pieces we didn't recognize. Between choral performances, scripture was read, mostly the Christmas story from the four gospels. And the drumming! We could have listened to the drumming all night. The concert ended with Handel's "Hallelujah Chorus" from the "Messiah." The music resonated with me for hours afterward as we swung at anchor aboard Impunity.
Although we both felt pangs of homesickness during the Christmas season, we were glad to experience Samoa at Christmas. This experience enriched our journey and gave new meaning to community spirit.