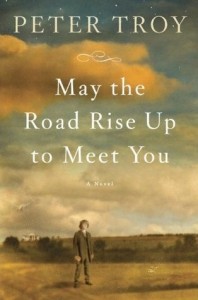 Peter Troy, author of May the Road Rise Up to Meet You writes a compelling story, weaving the lives of four main characters as they cope with turbulent times. The novel encompasses first Ireland and its Great Famine and then moves on to America just before and then during the Civil War. His description of the Civil War, seen through the eyes of these diverse characters, makes this novel a unique read. The book chronicles years 1853 through 1867.
Mary Wilkins, a slave,.is a young girl when she's sold to a family who treats her kindly, but she is nevertheless a slave, unable to personally benefit from the beautiful garments she creates.
Ethan McOwen is only twelve when he leaves his grieving mother and aunt in Ireland to join his father and brother in America. For the first time in his life, he's alone for the endless dangerous journey across the sea. He's reunited with his father and brother whom he hasn't seen for two years and his life begins again in America.
Micah, a slave, eventually gives himself the last name of Plowshare, but for much of his life, he is simply Micah. An extraordinary carpenter, he is much in demand, but has no control over his own life, and sees his skills benefit only his master. When it comes to rights, he's on an equal par with a mule.
Marcella Arroyo, originally from Spain, is the daughter of a wealthy merchant, but becomes involved with the Abolition Movement to end slavery. In order to follow her heart, she must leave her father's house to join others of like mind.
As the stories of these individuals unfold, I found myself embroiled in this great saga. Troy doesn't always follow the rules of writing literature, but rather follows what captures your heart. His use of colloquial language and accents enriches the narrative. He skillfully balances the perils and joys of each life as they encounter one another. The ravages of the Civil War drive their individual stories, giving the reader insightful behind-the-scenes glimpses of America during this dark period.
I highly recommend May the Road Rise Up to Meet You. 'Tis a book you'll not soon forget.