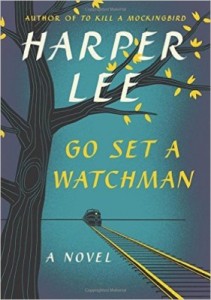 Go Set a Watchman, the book itself, has an interesting history. When Harper Lee presented her first novel to a literary agent in the 1960's, the author was persuaded to rewrite it from the main character, the child Jean Louise Finch's, point of view. To Kill a Mockingbird was the result, a book that became one of the most widely read books dealing with race in America. Now, 55 years later, the "original" book has been released.
Go Set a Watchman begins with Jean Louise Finch, now 26, returning home to the small town of Maycomb, Alabama, from New York City, where she has lived and worked for the past few years. She plans to spend three weeks visiting her father, 72 year-old Atticus Finch a beloved attorney who, despite suffering the crippling effects of rheumatoid arthritis, still practices law. Although the novel doesn't specify the date, it is presumably in the mid-to-late 1950's, because the Supreme Court has passed the school desegregation law, a 1954 law that has incensed most Southerners.
Having lived in New York, Jean Louise is seeing Maycomb County in a different light. In New York she has worked and lived near people of color, but in Maycomb she's taken aback by what she sees as gross inequality. Worse, she sees her father, whom she has always worshiped, in a different, unfavorable light.
Go Set a Watchman is an important book for our times. Harper Lee doesn't gloss over racial attitudes. She looks at the whole person, strengths and flaws together. While To Kill a Mockingbird is considered a coming-of-age novel, Go Set a Watchman is a coming-of-age novel for an adult, a work of wisdom, humanity and passion, a book evocative of another time, but relevant today. It isn't necessarily a fun or easy read, but it's a book that made me think. I highly recommend Go Set a Watchman.