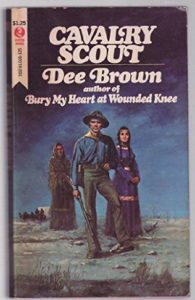 Dee Brown, (1908–2002) was an acclaimed author and historian of the American West. His most famous work, Bury My Heart at Wounded Knee (1970) details the historical development of the American West from the Native American point of view.
In the novel Cavalry Scout, which takes place in the mid-1800's, John Singleterry is ordered to guide troops charged with escorting the Cheyenne to a reservation. Although he is engaged to the daughter of his superior officer, Singleterry meets and falls in love with a woman who is half Cheyenne, half white. He becomes involved with the plight of the Indians, their mistreatment and the outrageous injustices they experience.
Brown's exquisite details and depth of knowledge are impressive. I felt like I rode with him, experienced handling the horses, suffered from the unrelenting cold, and put up with an Army that followed orders dictated by those who didn't understand the situation. His knowledge of the Indian way of life was fascinating in its authenticity.
Cavalry Scout is a classic and has spurred my interest in reading Brown's other works. I highly recommend this novel.