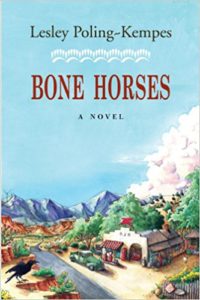 Lesley Poling-Kempes' Bone Horses captured my rapt attention with vivid scenes of New Mexico's high desert country, a compelling blend of people, and a mystery line that weaves its way through folk lore and gritty realism. It's no surprise that the novel is the recipient of four literary awards.
New York school teacher Charlotte Lambert is a serious, cautious woman, not inclined toward last-minute or brash actions. After attending a conference in Sante Fe, she decides to see the place where many years before her beloved late grandfather, a paleontologist, discovered an important fossil site. It is also the place of her mother's sudden, violent death. She rents a car, assuring herself that she can visit the site near the dusty little town of Agua Dulce, return to the hotel for the final conference banquet, then catch her flight home the next morning.
The area Charlotte seeks is remote, raw wilderness, with heat so intense she can hardly breathe. Attempting to shoo a raven from her windshield, she hits a rock, high- centering the car. She has no choice but to start walking, walking to a new life with people of a wide mix of Hispanic, Apache, Anglo and combinations of all three, people who have their own mysteries. Some are welcoming, some bear grudges.
Charlotte learns about her mother's death and the mystery surrounding it. She learns the ways of loyalty that knit together an extended family, land, and ancestors. She finds romance and contentment. But she also finds fear when old truths surface.
Bone Horses is a complex, magical mystery, full of wisdom and legends. Lesley Poling-Kempes has crafted a memorable, soul-searching story.
To learn more about the author, visit http://www.lesleypoling-kempes.net/