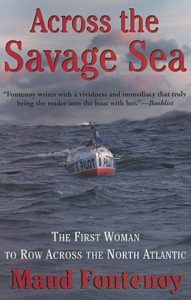 Maud Fontenoy knew the sea. Her first fifteen years of life were spent living aboard a fifty-one foot staysail schooner with her parents and two brothers. She knew what it meant to be self-sufficient, to weather storms, to acknowledge the sea's powerful force. But in order to accomplish being the first woman to row across the North Atlantic, she had a host of other skills to learn.
Across the Savage Sea: The First Woman to Row Across the North Atlantic is a remarkable memoir of one woman's determination to set a record. At the age of 25, she singlehandedly rowed her 24-foot boat, Pilot, from Newfoundland, Canada to LaCoruña, Spain. Although she felt prepared for the journey, Fontenoy realized that nothing could have prepared her for the hardships she endured: personal injuries, life-threatening equipment failure, aching loneliness, back-to-back storms, numbing cold and constant dampness. For four months, the author battled the turbulent sea, experiencing the ocean's wrath, but also its poetic and beautiful moments.
This book is not for everyone. Many will ask, "Why would anyone want to do such a thing?" But it is an exciting account written by an expert mariner. I have been to sea with my husband on a 40-foot sailboat, have experienced being bashed around by turbulent seas. I cannot imagine doing it alone. But this was Fontenoy's dream. She wanted to experience a great adventure, all alone, to drive herself to the limits, putting emotions, her body and its potential, to the test. And, she did it.
Five years after her epic North Atlantic crossing, the author established the Maud Fontenoy Foundation, established to raise awareness and educate people, especially young people, about the challenges we face to protect our oceans. To learn more about the author and the foundation, visit http://www.maudfontenoyfondation.com/en/