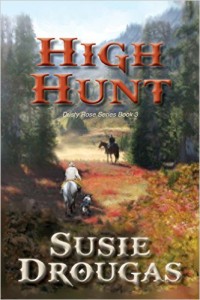 Attorney Dusty Rose takes a break from his law practice to work as a hunting guide for his Uncle Bob, leading pack-horse trips into the Pasayten Wilderness at the crest of the Cascade Mountains. Dusty looks forward to his backcoutry vacation, but what should be an ideal get-away turns into a dangerous, deadly ordeal.
Cassie Martin, also a lawyer, is on Dusty's mind as he manages his chores hosting hunters and tending stock. His worst fears become reality, and it looks likely that this could be his last wilderness adventure, and that what he had hoped to have with Cassie will never be.
Author Susie Drougas brings the reader into a wintery wilderness in this captivating novel. We view the rugged Pasayten country from the saddle. A guide's job not only entails expert riding skills, but also tending to clients' safety and comfort. Life slows down on the trail. Preparing a meal includes collecting wood for a campfire, patiently waiting for water to boil before making camp coffee, meanwhile fashioning an oven in the coals. We learn from experts the special care trail horses and pack animals need.
High Hunt is the third in the Dusty Rose Series. The first two, Pack Saddles & Gunpowder and Mountain Cowboys, also include wilderness pack trips.
Susie Drougas is a long-time active member of Back Country Horsemen of Washington and shares the work and struggles of that group to keep the wilderness available to everyone. To learn more about the author and her love of riding and writing, visit http://www.susiedrougas.com/