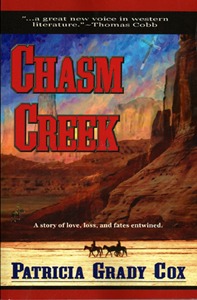 In her recently released novel, Patricia Grady Cox captures the old Southwest with skill and aplomb. The realism of Chasm Creek brings the reader into the lives of Morgan Braddock, Civil War hero but now a wanted killer, Morgan's partner, Reuben Santiago, a Navaho raised in a Spanish Roman Catholic family, and Esther Corbin, a mother of four children.
Esther's husband has been gone for months; he's apparently abandoned his family and their meager farm. She jumps at the chance to rent out the farm to two men, Morgan and Reuben, who want to set up a business selling horses to the Army. Esther and her children move to the nearby dusty mining town of Chasm Creek, to stay with her brother, the town marshal.
Although Morgan longs to be with his wife and children, he can't go back. Esther doesn't miss her abusive husband, but he's left her in a bad position, still married but without an income. Even though it's morally forbidden, Esther and Morgan can't deny the deep longings they feel toward one another.
Chasm Creek, a story of love, loss and fate entwined, brings to life a keen sense of place. Patricia Grady Cox's descriptions are so vivid and richly detailed, I often wanted to linger, to savor the moment. On the other hand, the book is a captivating, fast-paced read. Cox is highly skilled in bringing the Southwest, its landscape, authentic characters and language, to life..
For more information about the author, visit www.PatriciaGradyCox.com