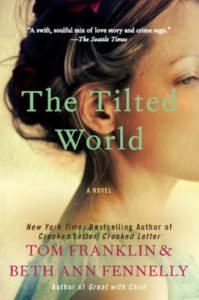 The Tilted World, co-written by man and wife team, Tom Franklin and Beth Ann Fennelly, is not only a gripping story of Mississippi bootlegging, but is also a revealing true account of the 1927 massive 27,000 square-mile flood.
Dixie Clay Holliver, married to slick Jesse Holliver, still grieves over the death of her infant son. Dixie Clay is not only married to a bootlegger, but, unknown to the townspeople, she makes the best moonshine in the county. Jesse is in complete control of the business and is commonly credited for making the contraband.
When Federal agents Ted Ingersoll and Ham Johnson arrive in the town of Hobnob, Mississippi to investigate the disappearance of two fellow agents, they come upon a crime scene and find an abandoned baby boy. Ted, who was raised in an orphanage, feels compelled to find a home for the little boy. He learns that Dixie Clay recently lost her son and he rides out to her house to deliver the baby. As Ted and Ham continue their investigation, they uncover more than they bargained for.
Have your umbrella and waders handy when you read this novel. Knowing that the flood portion is based on actual events makes this story even more powerful. By the end of the book I felt saturated, not only by the awful weather, but by the unique story of intrigue, murder and moonshine.