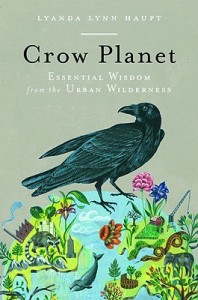 Crow Planet: Essential Wisdom from the Urban Wilderness by Lyanda Lynn Haupt beautifully blends nature and science. Haupt, an award winning nature writer, shares her keen observations about how crows relate to ever-encroaching urbanization.
Crow Planet delves into the fascinating study of these distinctive members of the Corvidae family which also includes jays, magpies, and ravens. The book describes crows' impressive intelligence, their living habits, and how they've adjusted to dwindling natural habitats. The author takes her readers into her West Seattle backyard and shares her own little pocket of wildness. Haupt's vast knowledge as an observer of nature mixed with her gift of language makes this book of interest to anyone concerned about our planet.
It's easy to become alarmed about diminishing wildlife, but Haupt presents a viewpoint of hope and inspiration of what individuals can do to enhance nature's bounty to change the course of events.
I particularly enjoyed the many intriguing crow stories, especially my favorite about a crow following a mail carrier every day for more than two years, walking behind him like a golden retriever. This book is loaded with lore and facts, world concerns and minute details that only a keen observer would notice.
From Crow Planet the reader learns how to really observe. Haupt lists ways to become a student of nature and she emphasizes the beauty of living simply. The book is an informative, well-stated study of crows and how they have adjusted to the planet. Haupt makes a strong point of recognizing the importance of the interconnections of all life.
For more information about the author and her work, visit http://www.lyandalynnhaupt.com/