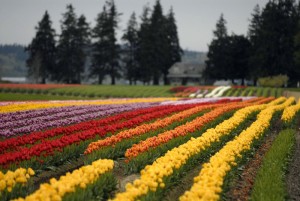 It's like viewing the perfect mural—row upon row of dazzling color—brilliant red, sparkling yellow, vivid pink, rakish purple. Though picture-perfect, they're real, these delightful tulip fields of the Skagit Valley. Not only tulips, but daffodils and iris grace these lovely fields. Although Mother Nature dictates the bloom dates, daffodils bloom first, followed by tulips and finally, iris.
Now extended to cover the entire month of April, this year's 33rd annual Skagit ValleyTulip Festival also features, in addition to viewing the blooming fields, a packed schedule of events including art shows, wood crafting events, barbecues, quilt walks, and walking tours.
Since the mid-1930s, spring-time visitors to the Skagit Valley have marveled at the striking beauty of tulip, daffodil and iris fields. Northwest Washington, particularly in the Skagit Valley, has become world- famous for its seasonal showcase and for its commercial bulb production. Washington Bulb Company, the nation's largest tulip, daffodil and iris producer, makes its headquarters in Skagit Valley.
As it happens, the Northwest has perfect bulb-growing climate with cool moist winters, which encourages root growth. Also, relatively cool spring and summer weather helps control diseases common in hotter places. Another factor is well-balanced, level and well-drained soil.
A favorite local story tells about the local gardener who thought he would buy his bulbs that year from the source, Holland. You guessed it. When he received his bulbs from Holland, the package label said the bulbs were grown in the Skagit Valley!
Those who are returning to enjoy the springtime hues will notice that those fields seen last year frequently will not have the same crop this year. That is because flower bulbs, like many other crops, must be rotated to preserve the soil and reduce pest contamination. The flowers rotate to their original field about every five years.
Tulip Festival maps are available at many Skagit Valley stores, but it isn't necessary to have a map to enjoy the blossoms. Signs indicate the "Tulip Route," or you may simply drive along until you see a field. If there is a pull-off, park and enjoy the view, or even walk along designated paths. Remember, for some traffic on the road, it's business as usual and drivers aren't expecting sudden stops. Also, this is a busy time of year for farmers and heavy equipment will be moving about, so please be patient.
The Skagit Valley growers ask for your cooperation in touring the fields. Be aware that only certain fields are open to visitors. Always observe private property; please don't trespass to get a picture. Enter only those fields with signs posted that visitors are welcome. NEVER pick a flower—cut flowers are available for sale at various stands.
Two local growers encourage visitors to stop: Roozengaarde and Tulip Town.
Roozengaarde has a three acre display garden with an authentic Dutch windmill. Bulbs and cut flowers are available for purchase—stroll the gardens to find your favorites. At Tulip Town, in addition to the tulips fields and purchasing opportunities, visitors will enjoy more than 100 exquisite tulip arrangements, live music, food, and horse-drawn wagon rides through the tulip fields
Splendid opportunities await eager photographers. Early morning or late afternoon give the best light for picture taking. For really spectacular pictures, include landscape attractions, such as barns or snow-capped Mt. Baker. Tulip fields provide a colorful carpet against the backdrop of the majestic Cascade Mountains.
To get there: The blooming fields are 60 miles north of Seattle, directly off I-5 using exists 221 through 236. All of these exits have tulip brochures at the nearest businesses. The fields are spread out over a 15-mile radius and events are scattered around the entire county. Festival site guide maps are available.
For more information, visit tulipfestival.org or call (360) 428-5959.