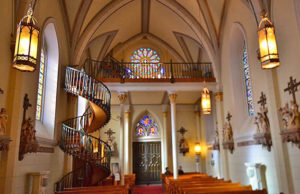 The Loretto Chapel in old Sante Fe, New Mexico is as mysterious as it is beautiful. While attending the Women Writing the West writers' conference, I joined our group on a walking tour of the old Sante Fe's historic district. The highlight of that tour was the Loretto Chapel.
Loretto Chapel was almost completed in 1878 when the builders realized the chapel had a major flaw: there was no access to the choir loft twenty-two feet above. Carpenters were called in to address the problem, but they all concluded that building a staircase would take too much space from the limited seating of the small chapel, and that the only access would be a ladder.
The Sisters of the Chapel made a novena to St. Joseph, the patron saint of carpenters. On the ninth and final day of prayer, a man appeared with a donkey and toolbox looking for work. He had two requirements: that he work completely alone and that the nuns furnish vats of hot water several times a day. They honored his request.
Months later, on the appointed day, the nuns entered the chapel to find an elegant circular staircase with two 360-degree turns and no visible means of support. The staircase was built without nails, only wooden pegs. Mysteriously, the carpenter disappeared without pay or thanks.
The staircase was said to sway slightly and ten years later bannisters were installed for safety in climbing to the loft.
Today the chapel is a private museum and maintained for the preservation of the Miraculous Staircase and the Chapel itself. Besides museum visitors, the Chapel is a popular site for weddings.
If you're in Sante Fe, be sure to visit this lovely chapel. It's an amazing experience.