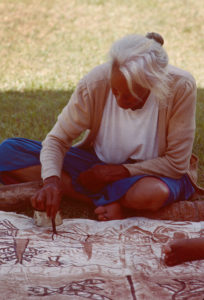 Note: The following is taken in part from my memoir, Sailing with Impunity: Adventure in the South Pacific.
We first saw tapa at the Pago Pago market where decorative pieces were sold. Most tourists bought them for wall hangings, but for South Pacific Islanders tapa has many more uses.
Tapa is a barkcloth made in many of the South Pacific islands, primarily in Tonga, Samoa and Fiji, but many other islands, too, including Hawaii. In olden times it was often used as clothing, but nowadays it is highly prized for its decorative value and is often found hung on walls or as room dividers. Tapa is a highly prized gift at events such as marriages and funerals.
Tapa comes from the bark of the mulberry tree. The bark is stripped in sections about hand-wide and person-long. The inner bark is stripped away from the outer bark and the outer bark discarded. The inner bark is dried in the sun before being soaked in water. Then the bark is beaten with wooden mallets and the strips flattened and layered using a glue made from tapioca flour or potato starch, and the painting and design process begins.
The woman in this picture is shown designing a piece of tapa. At the time we thought she was using charcoal, but after doing more research, I now think it was probably brown paint made from the koka tree.
In Tonga we often saw people, mostly elders, with tapa around their waste and down to nearly their ankles. It didn't look like a comfortable garment to us, but we learned it was a traditional sign of respect and worn when attending important gatherings.
People in the South Pacific take tapa very seriously. It is to be treasured.