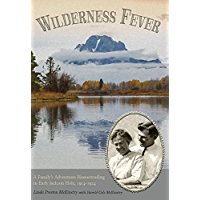 A fascinating memoir, Wilderness Fever: A Family's Adventures Homesteading in Early Jackson Hole, 1914-1921, written by Linda Preston McKinstry with Harold Cole McKinstry, shows a way of life that's hard to imagine in this modern age. Homesteading accounts normally entail life in the 1800's, but the McKinstry's story shows the toughness and determination of early 20th century settlers in the untamed Wyoming wilderness.
Linda and Harold (called Mac) were not typical homesteaders. They both had been professional people: Linda, from Massachusetts, taught home economics in Washington D.C. and Mac, from North Dakota, worked for The U.S. Department of Agriculture, also in Washington D.C. They married and set out in 1915 to find adventure in the wilds of Wyoming. Unlike many hardscrabble homesteaders, they arrived with the financial means to obtain the supplies and equipment needed to start a life in a place devoid of almost all creature comforts.
Having the means to buy necessities helped establish their homestead, but what made their venture a reality was their unrelenting, grueling hard work. The area is known for its long freezing winters. Cooking with a wood-burning stove may have been a luxury compared to cooking over an open fire, but keeping the stove supplied with wood for both cooking and warmth was a never-ending job. In the early days, their meat consisted of what Mac could hunt. Although they could purchase groceries from the nearest town, it was many miles away and it took an entire day to get there, if the roads and weather even allowed travel. A garden produced much of what they consumed. Linda canned meat and vegetables to have when fresh was unavailable. The endless list of chores involved cutting blocks of ice to keep food fresh, caring for stock, milking a cow for milk and butter, raising chickens, always striving for a variety of food to keep the family healthy. Along the way, three children were born, which necessitated long trips into town for the births. In those days it was believed women needed at least ten days of bed rest after giving birth.
Neighbors helped neighbors, and I was surprised at the amount of travel back and forth over many miles on horseback or wagon. Because of the great distances between homesteads, over-night stays were often necessary. Linda routinely had guests for meals, especially mid-day, since travelers had no other place to eat.
Mac spent much of his time building his ranch and increasing his stock. His many talents and ingenuity helped make his ranch profitable. He was also in high demand as a licensed surveyor, both for the government and for ranchers. They were in a financial position to hire help for Linda so that Mac could be away, sometimes for several days at a time, either surveying or helping a fellow rancher.
Through it all, they found strength in each other and in the quietness and beauty of their wild surroundings at the foot of the Tetons.
The memoir, gleaned from their journals, is told by both Linda and Mac initially, but the last several chapters are in Linda's voice, taken from letters mailed to her mother and sister. The book's format has sidebars with dates, providing interesting footnotes and additional information. Photographs also bring the story to life. Wilderness Fever is an unusual, outstanding read. I highly recommend this account of an enterprising couple determined to find their own way in the wilds of Wyoming.