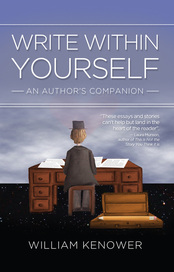 William Kenower's Write Within Yourself: An Author's Companion is a precious little gem. As an author, I find it inspiring, but you don't have to be a writer to gain helpful, insightful self-knowledge.
The book is comprised of short essays, pieces aimed at the heart, mind and spirit. William Kenower shares of himself in a way that opens the door for the reader to better understand the treasure that lie within. The book isn't intended as a guide, but a companion. It's a book you'll want to keep handy so that you can take a few minutes to remind yourself where you want to go, and how to sift through information you need.
Kenower shares stories of his own life in a way that I could apply to my own experiences. Many of life's incidences become fodder we can write about, and even change the ending to suit ourselves.
The book sparkles with fresh wisdom. At first I tried to devour the book as I do with much of my reading. But then I realized I would gain more insight by rationing it out, only reading two or at the most three essays in one sitting. By doling the stories out slowly, I could more readily absorb its lessons of passion and creativity.
I love this little book. Its 179 pages are crammed with life skills, wry humor, and wisdom applicable to every day living. It is indeed a companion, a little friend for writers, but also for those seeking to know themselves better.
To learn more about the author and his work, visit www.WilliamKenower.com.