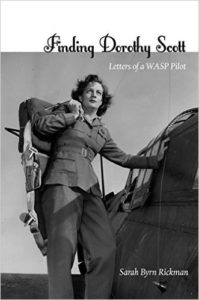 Sarah Byrn Rickman has written a captivating, scholarly biography of Dorothy Faeth Scott, the 25th woman to join the Women's Auxiliary Ferrying Squadron (WAFS) in November, 1942. Finding Dorothy Scott: Letters of a WASP Pilot is a masterpiece, written by an author who has made a years-long study of these fascinating women who gave so much to our country.
America was at war, in both Europe and the Pacific, and pilots were critically needed for combat. In order to free up the male pilots, civilian women were trained and called into service to deliver liaison and fighter planes from factory to training fields and embarkation bases throughout the continental United States.
Even before the war, many women showed interest in flying and some had even made a living as pilots. As a child, Dorothy had been fascinated with flying and was a regular visitor at the small airport near their hometown of Oroville, Washington. Dorothy Scott graduated from the University of Washington Pilot Training Program, and after joining WAFS had extensive additional training in the various planes being used in combat. Much to their chagrin, the women were only allowed to ferry planes within the United States and Canada, not overseas like their fellow male pilots.
WAFS' life was not easy. They weren't always well received and, although they followed military protocol, WAFS were still civilians. They didn't have the advantages of male military pilots, such as riding back to their base aboard military transport after delivery. The American Red Cross played a significant role in assisting the women pilots with a meal and transportation to civilian airports so they could return to their home base.
In 1943 the name WAFS was changed to WASP (Women Airforce Service Pilots), which also broadened the scope of their duties. Many graduates of flight school served in different jobs around the country, such as instructors, in addition to ferrying planes. But the women were still considered civilians without the privileges or pay of military pilots. When their unit was disbanded in 1944, many WASP even had to pay their own bus fare home.
The driving forces in this biography are the letters Dorothy wrote to her family during her time of service, letters that surfaced in 2000. These letters give a sense of time, place and mood of the country during these war years. Through her letters, Dorothy's strong, steady voice relates her struggles, victories and her love of family.
Finding Dorothy Scott is an intriguing study of the life and times of these exceptional women who filled a needed void during World War II. After a long struggle, the WASP were afforded Veteran status in 1977. The biography concludes with news of belated but much-welcomed recognition when, on July 1, 2009, President Obama signed into law a bill to award a Congressional Gold Medal to the Women Airforce Service Pilots (WASP). The description of the ceremony and a joyous reunion serves as a satisfying ending to this extraordinary story.
Sarah Byrn Rickman is the author of five previous books about the WASP, the women who flew for the U.S. Army in WWII. To learn more about the author, visit http://sarahbyrnrickman.com