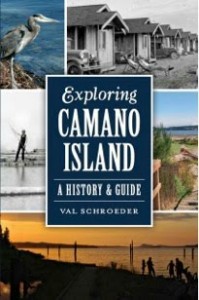 Val Schroeder's Exploring Camano Island: A History & Guide is an enjoyable, informative guide to Camano Island, the second largest island in Island County, Washington. Comma-shaped Camano's 95 square miles has no town and is connected to the mainland by bridge. The island is about an hour's drive from Seattle and is nestled on Puget Sound between its larger sister island, Whidbey, and the mainland.
Great strides have been made to ensure that Camano's wild spaces are being preserved for future generations. Since 1994, more than a dozen nature preserves and parks have been established by islanders working together to protect the land from further development. Even before then, in 1949, 500 local citizens united to create Camano Island State Park, literally in one day. They cleared land to make roads and trails, campsites and picnic areas. They built buildings and picnic tables, and cleared a spring for a clean water source. By the end of the day, that dedicated group had transformed 92 publicly owned acres into a park that is still thriving 65 years later.
The well-organized book has sections identifying Camano's major nature preserves and protected land. The author describes each place, how it is today, its history, and its legacy and what it contributes to its people and wildlife habitants.
Schroeder quotes the famous anthropologist Margaret Mead: "Never doubt that a small group of thoughtful committed citizens can change the world. Indeed it's the only thing that ever has." It is this principal and commitment that has kept Camano Island a special place for its inhabitants. The author emphasizes the many contributions that individuals and organizations have made through the years to protect and preserve the island's cherished natural sites.
Val Schroeder, a high school teacher, is a strong advocate for the protection of wildlife and was recognized by the National Wildlife Federation in 2006 as Volunteer of the Year. She resides on Camano Island and has been instrumental in furthering public awareness of wildlife preservation.
Camano Island explorers will find Exploring Camano Island a helpful guide. Those who live on the island will appreciate what it took to make the island the special place it is today. Readers from other areas will learn from how they might manage, preserve or restore their own natural habitats. I highly recommend this enlightening book.