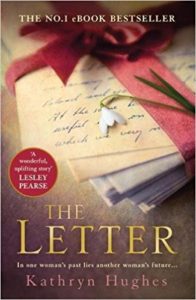 Kathryn Hughes' compelling novel, The Letter, takes place in England and Ireland, and toggles between the early days of World War II and the 1970s.
While processing donated clothes where she volunteers at a thrift store in Manchester, England, Tina discovers an unposted letter in the pocket of a man's old suit. The letter is obviously very old and she can't resist opening it. Written by a distraught young man to the woman he loves, the letter apologizes for his behavior when he learned the woman was pregnant. Tina's curiosity drives her to learn more about the letter and the obvious tragedy behind it. Why wasn't the letter delivered? Who were these people? In any event, the project takes her mind off her own troubles dealing with Rick, her abusive husband.
The story goes back to 1938, to the home of a domineering father, a doctor, his wife, a midwife, and their daughter, Chrissie. Chrissie, 19, is seeing Billy a young man whom her father disapproves. Much to her intense dismay, she discovers she is pregnant. When her father learns of her condition, he immediately sends her to live with his wife's sister in Ireland.
The story goes into some detail about the horror of unwed mothers being sent to convents and the harsh treatment they endured, invariably ending with relinquishing their babies to adoptive families.
The Letter held my rapt fascination as it weaves the stories of Tina and Rick in the 1970s and Chrissie and Billy in the late 1930s. As Tina delves into the story, another character appears, an American, which adds to the mystery.
I enjoyed The Letter, even though some of the harsh treatment depicted, though believable, was hard to read. The author does a good job of describing the attitudes and conditions of the day of both generations.