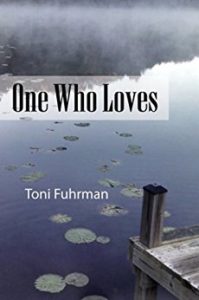 A captivating read, One Who Loves by Toni Fuhrman features complex and believable characters. The novel provides a refreshing look at ordinary lives in extraordinary circumstances.
Jon is the first person Liz meets at Bo House, a residence for university students in Ann Arbor, Michigan. She is immediately attracted to him, but once Jon meets another newcomer, Tess, Jon and Tess become a "couple." Although Liz and Tess are friends, they have opposite personalities. Liz is cautious, carefully plans her life, and finishes what she starts. Tess has a flair for life and intends to live it to the fullest. Liz dates Patrick, a pre-med student, but her love for Jon secretly smolders in her heart.
The two couples remain friends. Liz and Patrick marry, as do Tess and Jon. Their lives evolve over a 20-year period as they experience love, anger, triumph and disappointments. As the two couples have children, go on vacations together, live their day-to-day lives, the reader experiences a rich texture of their different personalities. Through it all, Liz carries in her heart a love for Jon, though she performs her responsibilities as a loving wife and mother. Tess remains flamboyant, bringing vivid color and eloquence to everyone and everything she encounters.
When tragedy strikes, strength of character is shown, along with weakness and denial.
Although an accomplished writer of poetry, essays and technical articles, One Who Loves is Toni Fuhrman's first-published novel. The novel takes place in Michigan. where Fuhrman spent most of her adult life. This excellent novel is currently available as an ebook, but soon may be published by New Libri Press in trade paperback..