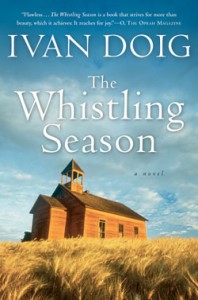 Every once in awhile a book of pure excellence comes along and, for me, Ivan Doig's The Whistling Season has reached that level.
In 1909 change was in store for the Milliron family. The story is told in the voice of a reminiscing Montana school supervisor when he was 13 years old, The oldest of three sons, Paul is a precocious child who takes his responsibilities seriously. His father counts on him, especially since the boys' mother died the year before.
The family manages, but the house is usually in disarray. Besides keeping up his farm at Marias Coulee, Montana, the father works as a drayman for a diversion canal under construction, and is president of the local school board. Housework and cooking naturally aren't at the top of chores that manage to get done. When the father sees a housekeeper's work wanted ad in the newspaper, the family's interest is piqued. It is puzzling though when they learn through the ad that the housekeeper, though well qualified, does not cook. Can't all women cook?
When the new housekeeper Rose and her brother Morrie crash into the Millirons' lives, immediate change transforms the household. Through a death, serious accident, a vengeful family and a puzzling mystery, every member of the family responds for the good of the whole. These are tough folks, people who must take life as it's served to them. How they measure up to the challenges shows the caliber of grit it takes to survive the dryland Montana prairie.
The entire book takes place primarily between the Milliron's modest farmhouse and the one-room schoolhouse that serves grades one through eight.
The Whistling Season unfolds with the flawless assurance of an acclaimed storyteller. The landscape and characters are vivid, as is the emotional depth of the novel. It's a story guaranteed to pop into readers' minds with gentle reminders of the book's every-day situations. The Whistling Season is a masterpiece.