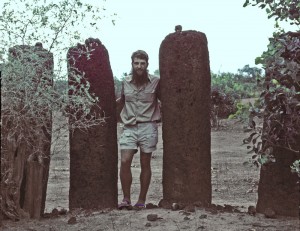 Peter Moore, our friend with the British Medical Research Counsel (MRC) invited us to go with him and Keith, his live-in work partner, to look for the locally famous Stone Circles in the Mid-River Division in what is called the North Bank area. Peter insisted on preparing our picnic lunch, which was a treat for me. We crossed the river at Georgetown, riding on an "arm-strong" ferry, meaning we pulled ourselves across, vehicles and all. The men pitched in, pulling on the cable hand-over-hand. It was actually quite efficient.
Traveling northwest into the bush in Peter's Land Rover for about twenty miles, we found the Stone Circles near the village of Wassu. These impressive remains are a group of cut laterite, a cementation of sandstone in the shape of posts, arranged in a partial circle. The Stone Circles are believed to have been protection for ancient burial grounds and are reminiscent of Stonehenge in England. Afterwards, we explored the area further, enjoying the luxury of having a vehicle to get around.
We spread a cloth on the ground in the shade of a baobob tree and enjoyed the lunch Peter and Keith had prepared, pâté on good French bread, pickles, canned artichokes and chilled beer. The British do a good job of making meals such as this special. Keith had even made a fruit pudding for dessert.
We found a monument to Mungo Park, not a place but a man, an explorer who searched for the mouth of the Niger River in 1797 and 1805. A plaque commemorates his efforts.
Since we had arrived in The Gambia, the main highway had been under construction and now, nearly two years later, was paved from Banjul to just a few miles from Basse. What used to take seven or eight hours (not counting break-downs) now took about five and a half. As we again crossed the river to return home, we marveled how much faster and more comfortable our trip to Basse was compared to even a few months before.
Peter offered to stop at the market before driving us home, so we could shop. What a treat! We hadn't bought meat for five months now. Meat was too tough and stringy, but fresh fish was available and we bought lady fish for dinner, just minutes off the canoe, lovely half-inch thick steaks for about the equivalent of seventy-five cents per steak. We replenished our supply of fresh vegetables, including okra, now that Peter had shown me how to fix it.
Keith sidled up to me, trying to look nonchalant. "There's a woman over there really staring at you."
"That's Sainabo, my peanut butter lady. We play this game."
Keith shrugged and shook his head.
I turned suddenly and caught Sainabo staring. She giggled and, laughing, I made my way to her. I wasn't prepared with a jar, but she wrapped four balls of peanut butter in a scrap of paper, the usual way it's sold. Peanut butter–one of our more dependable sources of protein.
We enjoyed our outing, appreciating our good friends and the joy of convenient transportation.
Note: To leave a comment, please click on "…Reply" below.