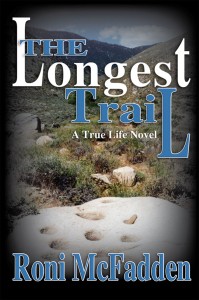 Roni McFadden has written a memorable book,The Longest Trail, a true-life novel that begins in 1963 in northern California when Roni is twelve years old. After saving her baby-sitting money for two years, she buys her first horse, Sparol, for $125,
While on horseback, Roni can forget the sexual abuse from her step-father, forget that she isn't accepted at school, and, later, that the crowd she's running with could get her into serious trouble with sex, drugs and free love. When astride a horse, she feels whole and at peace with herself.
Through a friend, Roni meets John Slaughter, then in his forties and married with his own children, a throw-back cowboy with a kind nature and a magical way with horses. In addition to his regular job, John takes hunters on pack trips in the High Sierra Mountains. He offers her an opportunity to help with the horses, to exercise, feed and groom them, and clean corrals. While at school, she lives for the time when she'll be with the horses, when she'll be at peace.
Roni proves her value and is soon a part of John's pack operation and joins him at a pack-station, a place where they stage high-country trips. Through the years, Roni is given more responsibility. With the responsibility comes dealing with city folks who bring the noise and rush of city life to their country outings. She learns patience, self-reliance and how to deal with hardship and discomfort. She learns to appreciate the high country's beauty and simple pleasures. Roni finds a kinship with horses that few achieve.
An important part of this intriguing story is Roni's involvement with the by-gone spirits of native peoples. As she learns more about herself, she absorbs ancient spiritual values, wisdom that enriches the rest of her life.
The Longest Trail is the story of an angry, confused girl becoming a woman of strength and character. It's a fascinating journey, sometimes rough, sometimes awesomely beautiful, always entertaining. I highly recommend this coming-of-age book–it's an unforgettable story. To learn more about the author, visit www.thebiscuitpress.com