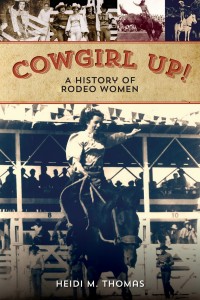 Cowgirl Up! A History of Rodeo Women by Heidi M. Thomas provides an exciting insight into women's role in one of America's greatest passions, rodeo.
American rodeo started at small ranch gatherings when cowboys showed off their roping, bulldogging (steer wrestling), and riding prowess. In those days, it was pretty much a male sport.
Many ranch girls learned to rope and ride as they helped their fathers, brothers and later their husbands with ranch work. These girls learned to "cowgirl up," which means to rise to the occasion without whining or complaining. As local competition became popular events, girls got into the spirit and began competing with the men. Girls' involvement raised some eyebrows, but they persisted, often wearing cumbersome skirts to be less offensive and more ladylike. Even so, many people thought of rodeo cowgirls as "loose women."
Cowgirl Up! is about these women of rodeo, many of whom started their careers as young as fourteen, competing against and often earning higher points than seasoned cowboys.
The 1920s were rodeo heydays for cowgirls, producing more champion female riders than any time since. These girls knew hardships, but persisted in their rodeo dreams.
Soon organized circuits formed and performers traveled from rodeo to rodeo, paying their own travel expenses and fees, often sleeping in tents. Many women brought their babies with them. It was a tough life for both men and women, but in addition to roping, riding bucking broncs, staying atop a writhing, twisting bull, these women made it their business to still appear feminine when not in the arena.
Two fatal injuries in1929 and 1933 among notable women competitors contributed to eliminating women from the Rodeo Association of America (RAA), later renamed Professional Rodeo Cowboys Association (PRCA), events.
Despite these setbacks, women persisted in rodeo competition, turning to smaller privately-produced rodeos. Many became national stars, sought after by such venues as Madison Square Garden in New York. New events geared toward women were added including trick riding, barrel racing and breakaway roping (where a calf is roped, but not thrown).
Cowgirl Up! is a riveting and personal account of individual Montana women who followed their dreams to hard-won fame. Tenacity is a common thread among their impressive achievements. One thing that surprised me was that despite broken bones, concussions, torn muscles and ligaments, many of these strong women have lived into their nineties.
Each chapter begins with a quote from a notable personality. My favorite is Oprah Winfrey's "Where there is no struggle, there is no strength." That quote perfectly sums up the cowgirls' struggle for rodeo recognition.
Author Heidi M. Thomas grew up on a working Montana ranch and speaks with authority on rodeo history. Her grandmother rode bucking stock in the early days of rodeo and Thomas' trilogy–Cowgirl Dreams, Follow the Dream, and Dare to Dream–are fictionalized accounts of her grandmother's life. Her latest work, Cowgirl Up! is a well-researched history of individual women's impressive role in rodeo.
For more information about the author and her work, visit http://heidiwriter.wordpress.com/