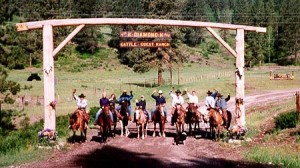 Photo from kDiamondk Website: www.kDiamondk.com
A great opportunity to change pace came along when writer Dawn Nelson organized a Writer's Weekend at a guest ranch. The 1600-acre kDiamondk, is a working cattle ranch in northeast Washington, near the old gold mining town of Republic. Another writer friend, Lani Schonberg, and I set out with high hopes of a fun, informative, and different experience. We weren't disappointed.
The kDiamondk Ranch, located in the Okanogan National Forest, was a special treat and a different experience for me. The hand-crafted log lodge gives the feeling of the American West's wide-open spaces. Sixteen unique bedrooms offer lodging in style with a down-home feeling. Three daily home-cooked meals in a family setting are part of the attraction to this warm, relaxed atmosphere.
Guests can participate in a variety of activities, depending upon the season. Among them, of course, is horseback riding, a wonderful way to really get the feel of the ranch. Fishing, gazing at wildlife, biking, photography and bird-watching opportunities abound. If you love snow activities, that part of the country has snow from Thanksgiving through February. Sitting by an evening fire, either a bonfire outside or a blazing fireplace inside, is all part of the experience. Upstairs, a lovely gift shop offers a variety of western goods, including western clothing, knick-knacks, and books. Nearby communities feature fairs, rodeos, golf and glimpses into the past.
A group of us drove the short distance to the old town of Republic to see the sights. Republic, the Ferry County seat, sprang from a gold mining camp originally called Eureka Gulch, and later renamed Republic. We poked our heads into many of the town's shops.
Republic Drug first opened its door in 1904. Although it has modern conveniences, up-to-date goods, and a full-service pharmacy, the drugstore still has relics of the past. The owner, Rob Slagle took time to show us around and share stories of his grandfather, who founded the drugstore.
Blending the old with the new, we stopped at the recently opened Republic Brewing Company, located in the old Fire Hall. With hand-crafted beer and free peanuts, the family-run brewery and taproom is a fun place to visit and mingle with townsfolk.
A must-see is the Stonerose Interpretive Eocene Fossil Center and Boot Hill Dig Site. 50 million years ago, in a time known as the Eocene Epoch, the City of Republic was part of an ancient lake. Over many years, layers of sediment built up on the lake bed. These layers can be seen today as fine-grained shale, volcanic ash hardened into sedimentary rock. The layers of shale split apart revealing insect, fish and leaf fossils. Visitors can see samples of these fossils, attractively displayed and identified at the Interpretive Center. In fact, you can dig for them yourself. Stonerose Fossils have been featured in National Geographic, Smithsonian and Sunset magazine, and more recently the Burke Museum of Natural History and Culture in Seattle, WA. For more information about this fascinating fossil site, visit www.stonerosefossil.org
Our trip was everything we hoped it would be. We exchanged ideas with other writers, some of us explored via horseback, others spent time in a the great little town of Republic, returning to the warm, friendly atmosphere of the kDiamondk ranch. For more information about the kDiamondk, visit their website at www.kDiamondk.com.