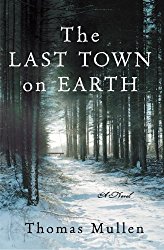 Being from the Northwest, I especially loved this novel, but it would appeal to anyone with a sense of history and an appreciation of a good story. Thomas Mulien has captured the spirit and essence of the lumber industry during the unsettling years of World War I.
The small mill town of Commonwealth votes to quarantine itself against anyone entering or leaving, hoping to protect its citizens from the highly contagious Spanish Flu, the most devastating epidemic in recorded world history. In order to protect itself from outsiders, armed guards are posted at the only road leading to or from the town.
When a cold, exhausted and hungry soldier appears at the check point begging for sanctuary, young Philip Worthy, the adopted son of the town's founder, is unsure about his moral obligation. But his watch partner has no qualms about what must be done to protect the town, particularly his own family. Shots are fired, resulting in a chain of events that affect everyone in the town. Consequences of the fatal encounter challenges love, patriotism, community, family and friendship. The very essentials of life are threatened, resulting in neighbors turning on neighbors and family members doubting each other's loyalty.
The Last Town on Earth is a moving, well researched novel. Author Thomas Mulien poses moral ramifications that made me wonder about what I would do faced with such dire circumstances. I found this moving novel well-written and realistic.