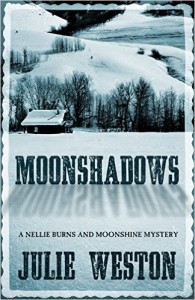 Settle in for an engaging period mystery with Moonshadows by Julie Weston.
Nellie Burns steps into a man's world of photography in the small mining town of Ketchum, Idaho in the early 1920s. In Chicago she'd worked in a photography studio, but only with portraits. Now she plans to follow her heart's desire with nature photography.
Nellie hires crusty retired miner Rosy Kipling to take her out to capture a winter night scene where "the moon will shine full on and create shadows on snow." Although he's never far from his bottle of whiskey, he and Nellie form a sort of bond.
While on her cold night-time trek, she makes a startling discovery at a nearby cabin. She discovers a hideous crime, then another. Nellie uses her talents as a photographer to capture on film what she discovers, but then finds herself embroiled in the mystery. Nellie's fierce desire to be independent may cause her to be a victim as well. As the story spins into a tight mystery, Nellie emerges as a reluctant heroine, sometimes doubtful of her course, but determined that right will prevail.
The reader sees, through Nellie's observant eyes, the flavor of Idaho's rugged landscape in the early 20th Century. Moonshadows is packed with Idaho history, rich characters and information about the early days of photography and its cumbersome equipment. Weston does a worthy job of capturing the spirit of small town living and the attitudes of the day.
Moonshadows is the first of the series, "A Nellie Burns and Moonshine Mystery." For more information about the author, visit julieweston.com