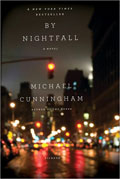 For a close-up view of man's frailties, the novel By Nightfall may be just what you're looking for. Michael Cunningham tells a good story, digging deep into man's inner thoughts, family dynamics, and the whims of the business of art.
Peter Harris, 43, owns an art gallery in present-day Manhattan. His wife Rebecca is editor of an arts and culture magazine. From all appearances they live well, are happily married, work hard, and are reasonably content. Their only child, Beatrice, now living on her own, plays a minor role, but recollections of her bring regret.
Their world changes forever when Rebecca's much younger brother Ethan, nicknamed Mizzy, short for Mistake, comes to stay for an unspecified time. For years, Rebecca and her sisters have come to Ethan's rescue in his various efforts to grow up. Although Ethan is now an adult, he seems to constantly need support from family and friends. Handsome and charming, he brings anxiety and unrest into Peter and Rebecca's lives.
Author Michael Cunningham delves deep into Peter and Rebecca's family backgrounds. These back-flashes bring texture to who the characters are in the present. When Ethan arrives, their routines are interrupted as they both try to cater to his needs. Rebecca takes on the role of big sister, but tries desperately to "let go." Peter attempts to be a big brother, a friend, but surprising emotions spring to the surface.
Throughout the novel, readers learn about the inner workings of the business of contempory art. Most of the book is written from Peter's viewpoint and his ever-present pangs of growing older, of how he appears to others, and how his work affects his bevy of artists and customers. By Nightful is an in-depth and memorable study of human nature, particularly in privileged society.
Although many readers may not relate to Peter Harris, his journey makes for an interesting glimpse into his world.