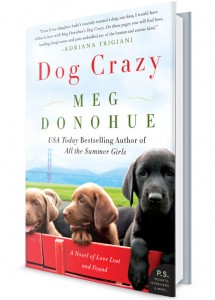 Dog Crazy by Meg Donohue is a fun light read targeted toward dog lovers. It would be a bonus if you happen to live in San Francisco—the descriptions of the various districts and parks are richly described as the story unfolds.
Maggie Brennan is new to San Francisco. She and her beloved dog recently moved into the downstairs apartment of her dear friend's house. She's opened a business as a pet bereavement counselor. Unfortunately, she knows too well the deep feeling of bereavement. Shortly after she moves to San Francisco, her dog and constant companion of 13 years, suddenly dies.
When a disheveled Anya Ravenhurst arrives for counseling, she makes it perfectly clear that she doesn't need counseling, she needs her dog back. She's only there because her brother insisted she needed counseling. But what she needs, she claims, is someone to help her find Billy, her dog that's been stolen.
That might not be such an unreasonable request except for one thing: Maggie has recently developed agoraphobia. It's been 98 days since she's left her apartment, since her dog died.
Dog Crazy is a great read, loaded with wonderful physical and personality descriptions of all manner of dogs. It's also an enlightening novel about the fear associated with agoraphobia and the extreme will power it takes to overcome an anxiety disorder. The book skillfully captures the special love between a human and her dog, the pain of separation, and the healing power between a dog and its owner.
To learn more about the author, visit http://www.megdonohue.com/