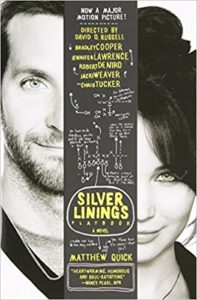 Matthew Quick's debut novel, Silver Linings Playbook, is written in first-person from the viewpoint of Pat Peoples, a man not yet equipped to handle a normal life. Pat has spent the last few years in a mental health facility. Because he doesn't seem to be improving, his mother insists he be released from what he calls the "bad place," and he lives at home with his dysfunctional family. Pat sees life as a movie produced by God. Although in his thirties, he grapples with life and is incapable of coming to terms with his divorce from Nikki.
In his attempt to regain Nikki's love and respect, Pat embarks on a physical training regimen, spending many hours a day on an exercise machine, or doing sit-ups, and running miles each day. He reads books from his ex-wife's teaching syllabus in a effort to be more literate and raise Nikki's opinion of him. His goal is to end what he calls "apart time" and resume his life with Nikki.
Pat goes to therapy and the therapist and Pat's lives begin to intertwine through their mutual love of the Philadelphia Eagles.
In the meantime, Pat meets Tiffany, an angry, troubled young woman with a mysterious agenda. She often shows up at Pat's doorstep to run with him.
As the story of the circumstances surrounding his being admitted to the mental health facility slowly unfolds, Pat's awareness of that time brings more grief into his life and his desperation grows. In his mind, all his improvement focus is tied to reuniting with Nikky.
Silver Linings Playbook is an entertaining read, but troubling, too. Pat's inability to think and act like an adult bothered me. His parents' marriage brought even more anxiety to his life, and that concerned me. Although the novel ended on a happier note, I found it hard to believe all would be well, let alone "normal." Admittedly, I am not a fan of organized sports, but I thought all the emphasis on football somewhat "over the top." Still, I enjoyed the book and appreciated the exposure to, thankfully, a way of life unfamiliar to me.