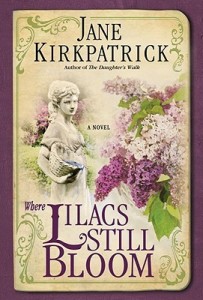 Award winning author Jane Kirkpatrick's historical novel, Where Lilacs Still Bloom, filled my heart. It's a compelling story of enduring love of family and God's earthly bounties.
The story begins in 1889 in Woodland, Washington, when German immigrant and farm wife Hulda Klager seizes an idea to improve the pie apples growing in their small orchard. She's weary of the scrawny fruit that's hard to peel. Her experiments with apple hybridization result in a crisp, juicy apple that's easy to peel. Her consuming interest is questioned by those who feel she's overstepping boundaries of a simple housewife and mother. Some even assert that she's tampering with God's plan.
Hulda's father encourages her to follow her God-given talents. Even though her husband Frank teases her about her "hobby," he encourages her to pursue her growing interest, providing there's "bread on the table and pies in the oven." She begins to experiment with flowers, concentrating on lilacs, with a dream of growing a creamy white lilac with twelve petals. By 1905 Hulda had created 14 new varieties of lilac, using a turkey feather to cross-pollinate, always seeking to produce "bigger blooms, hardier stalks, richer color, and finer fragrance."
Interest in Hulda's garden grows and she begins to hold open houses, sometimes drawing hundreds of people, even from distant communities. She resists selling cuttings, preferring instead to share God's bounty. Her four children help in the garden, and as they leave home to begin their own families, Hulda opens her home to two young girls who need a loving home and who can help in the garden. These girls' lives, thread throughout the book, show how tender care for plants mirrors life.
Throughout Hulda's long life she sees tragedy in the loss of loved ones, but she endures and finds comfort in her horticultural interests. Her gardens, along with their farm and their neighbors' property, are threatened with seasonal floods and when the Columbia and Lewis Rivers overflow in 1948, the entire community is flooded. We learn the true character of this legendary woman as she deals with this calamity.
Where Lilacs Still Bloom is filled with the richness and grace found in Jane Kirkpatrick's work. This novel is her twenty-second book and nineteenth novel. A master storyteller, Kirkpatrick researches her subjects, then brings their story to readers in a compelling, refreshingly creative way, yet always keeping true the subject's spirit. I highly recommend this book. It would be of special interest to garden enthusiasts, but also to anyone drawn to an inspirational story of loyalty, faith, family values and God's bounty. For more information about the author, visit www.jkbooks.com
Reviewers Note: I was especially fascinated with this book since I also live in Washington. Next spring I hope to drive to Woodland in the southwest part of the state to visit Hulda Klager Lilac Gardens. For more information, visit www.lilacgardens.com