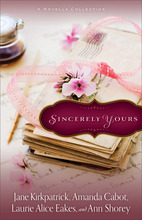 Sincerely Yours is a collection of four novellas with a common thread of love.
A Moonlight Promise by Laurie Alice Eakes
English born Camilla Renfrew is desperate, not only to find a new life, but to bury the old. She receives a letter from a friend that could answer her prayers. Camilla manages to hitch a ride on Nathaniel Black's steamboat in her rush to get to Albany to meet her friend. When the steamboat is sabotaged, Camilla and Nathaniel recognize in each other what is important, what true faith is, and how it can shape their lives. A Moonlight Promise is not only a lovely story, it offers an intriguing glimpse of steamboat life on the Hudson River in the early 1800's.
Lessons in Love by Ann Shorey
It's 1858 and Merrie Bentley has a secret passion. More than anything, she wants to be a writer. She is of marriageable age and her aunt dutifully tries to fulfill the promise she made to Merrie's parents that she would encourage the young woman to seek a suitable husband. When Merrie receives a letter addressed to Mr. Bentley, an invitation from a publisher to discuss her work, her joy is shattered. Confident that as a woman she won't be published, she convinces Colin Thackery, her piano teacher, to act as Mr. Bentley for the meeting. The plan takes an unusual turn and so do social expectations of marrying within one's station in life. Lessons in Love is a fun read and especially enlightening about social expectations in the mid-1850's.
One Little Word by Amanda Cabot
Lorraine Caldwell was trained to be the wife of a wealthy man. Her uncle and guardian since her parents' death has her future husband all picked out. Unfortunately she has no love for the man. When Lorraine receives a letter from her brother asking her to visit him at a resort some distance from New York City, she is thrilled, yet mystified. Arriving at the train station she is met by English-born Jonah Mann, a carousel maker. The purpose for Lorraine's visit opens her eyes to a new kind of life. Besides the well-drawn characters in One Little Word, the story is enhanced by carousel lore, history and traditions. The story takes place in 1892.
A Saving Grace by Jane Kirkpatrick
Music teacher Grace Hathaway receives two letters in the same envelope. One, a letter from her young godchild, Carolyn, asking for help, the other from an attorney writing on behalf of Carolyn's caretaker. Carolyn's mother, a recent widow, is in a sanatarium and cannot be convinced to leave. Grace leaves her teaching position in Oregon's ranch country and travels to Olalla, a small community on Puget Sound. At the hotel where she stays, Grace is attracted to another guest, Claude Millikan, a pharmacist who is temporarily working at the sanitarium. When she visits the sanatarium she's appalled by her friend's condition and the treatment given other patients. Grace devises a ruse to save her friend, but finds herself in danger when her plan backfires. Although fiction, the story is based on a real Olalla sanatarium that operated with questionable medical practices in 1911, when this story is set. A Saving Grace offers interesting views of health and social norms of the era.
Each of the novellas in Sincerely Yours ends with a letter from the author to the reader adding authenticity and interest to the 1800's and early 1900's, particularly as they pertain to women's lives today compared to expectations in the past. The well-crafted collection of stories is highly recommended.