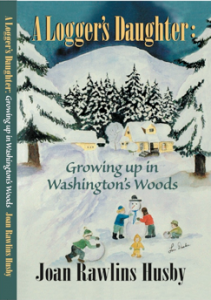 Joan Rawlins Husby's delightful memoir, A Logger's Daughter: Growing up in Washington's Woods gives readers a poignant view of the life and times of growing up in Washington's wilderness in the '40s and '50s.
Joan Rawlins was born just months before her parents, Delbert and Marie Rawlins', moved from North Dakota to Washington's Robe Valley, at the foot of Mt. Pilchuck. The Rawlins lived in a tiny cabin until Joan's father could build a larger cabin of scrounged material. Eventually, the Rawlins had five children who played in the great outdoors with other loggers' children.
Husby shares with readers a life of growing up in Washington's forests, the daughter of a logger. Although her parents didn't have a lot of ready cash and worked hard for every advantage they had, there was always food on the table and love to spare. The family was years in getting electricity and running water. Their "bathroom" was a two-holer a distance from the house. Heating fuel was wood, hand-cut and split. They raised chickens for eggs and meat, and rabbits for meat and skins to sell to Sears, Roebuck and Company.
If logging was shut down by fire, strike or snow, Husby's father earned money by making roofing shakes, or taking on any job that would put food on the table.
Equally interesting is Husby's writing of the area's history. When they arrived in Robe Valley, most of the timber was virgin. Many of the cedar trees were as wide in diameter as her father was tall. In the early days, timber was cut by hand-saw. Raging rivers changed the lay of the land. The purpose of railroads evolved from mining to tourism.
Husby creates vivid pictures of family and landscape, giving the reader a taste of yesteryear and a glimpse of a childhood in a pre-tech age.
I highly recommend this memoir of a simple life in a simpler time. Many will relate to at least parts of this book, while others will marvel at the grit it took to simply survive deep into Washington's woods.
To purchase a copy of A Logger's Daughter, visit www.rainsongpress.com or contact the author, Joan Husby <hjhusby@frontier.com>.