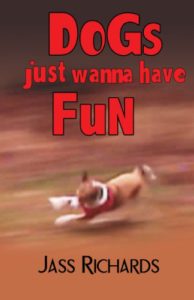 Jass Richards has written a fun, lively collection of dog stories, tied together by Brett, a woman who's had a hard time hanging on to traditional jobs. She already has two dogs, Kessie and Snookums, and she likes nothing better than to hang out with them. Why not make this interest an enterprise and get paid for something she loves?
Brett easily acquires four regular "customers," Chum, Hunk, Little Miss, and Spunk, and they rotate their daily activities between going to the beach, dog park, field, or whatever else comes along. And plenty of other things come along.
Jacko won't leave his property, Carson won't come into the house, Rosie is a depressed former race dog. Biscuit refuses to go on walks, and Winner, a blue-and-grey Australian shepherd is an over-achieving herder. Amber is a distraught search-and-rescue dog, Toby's a wall-flower unless he's wearing his turtle costume. Cookie, a puppy-mill casualty, sees the light of day, probably for the first time in her life. Can Brett and the pack help Bo and his person compete in serious Frisbee competition? And can they help Nisha, a blind lab, swim again?
The author's descriptions of the various breeds and their problems are poignant and heart-warming. As a dog lover, I enjoyed the stories in Dogs Just Wanna Have Fun and could relate to many of the situations. The main human character, Brett, is funny in a caustic, quirky sort of way, with a heart for dogs in need and a propensity for knowing how to have fun with them.
To learn more about the author, visit http://www.jassrichards.com/