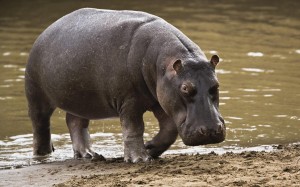 From: Tubob: Two Years in West Africa with the Peace Corps
One of our big goals while serving with the Peace Corps in The Gambia was to visit Niokolo Koba National Park in Senegal. We were able to take the 3-day trip with two other couples, US AID people who had a vehicle at their disposal.
The drive getting to the park was long, hot and dusty. After some viewing, we were ready to call it a day and make the next day our main viewing day.
Camping was allowed only in designated areas and we found the camps spartan but adequate. On our first night, the riverside camp had a round grass-roof hut and a cooking hut with a bench. The hut nicely held four people so Bruce and I elected to pitch our borrowed tent outside.
After getting that hot work done, we couldn't wait to cool off in the river. The six of us rushed into the river and gave a collective sigh of relief. I heard yelling and looked up to see the park ranger frantically waving for us to get out. "What? Get out? We just got here!"
We didn't want to get into trouble, so we reluctantly climbed out of the river and up the bank, not yet really cooled off. Once he saw us safely out of the water, he pointed upriver. There, we saw a family of hippos, their tiny ears and eyes reflecting red showing just above the surface of the water. Oops. Guess it was the wrong time of day to be cooling off in the river.
As we climbed into our tent later that night, I said to my husband Bruce, "I don't suppose this little tent is much protection from those hippos."
"There isn't room for two more in the hut."
"I suppose we could set the tent up in the cooking hut."
"Forget it. I don't have the steam." With that, he fell sound asleep.
Oh, well, I thought, and immediately drifted off to sleep.
The next morning, we saw dozens of big, flat hippo footprints leading from the river through the campground. Those huge animals had walked within two feet of our little tent, leaving footprints the size of turkey platters.