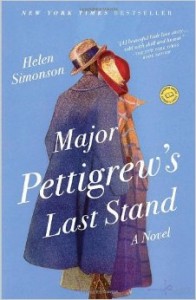 Helen Simonson's debut novel, Major Pettigrew's Last Stand, is a delightful, charming story centered around Major Ernest Pettigrew (retired).
In the small English countryside village of Edgecombe St. Mary, Major Pettigrew, a widower, is attracted to a lovely widow, Pakistani shopkeeper, Mrs. Jasmina Ali. Although Mrs. Ali was born in Great Britain and, in fact, has never been to Pakistan, she follows many of the traditions of her culture.
The Major and Mrs. Ali are drawn together by their love of literature and loneliness resulting from the loss of their spouses, but soon find themselves caught up in stronger feelings than mere friendship and a good pot of tea.
When they attend a country club program that spirals out of control, they find their relationship threatened. The village considers the Major a pillar of their community, while regarding Mrs. Ali as a foreigner.
The author, Helen Simonson, was born in England and raised in a small village. The English humor and way of expression is part of the enchantment of this novel. At one point the Major finds himself in a stressful situation. "He calmed his voice to a tone suitable for placating large dogs or small, angry children." Great emphasis is placed on tradition, the importance of one's family, and appearances. The threat of change can be one's undoing, or can it be a good thing?
Major Pettigrew's Last Stand is a fun read, but it also has its moments of truth, issues most of us face in our modern world. I loved spending time in the English mindset, particularly of an older man happily set in his ways. And I particularly appreciated Major Pettigrew's wit. To learn more about the author, visit http://www.helensimonson.com/