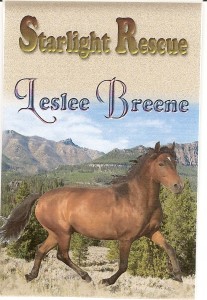 Starlight Rescue by Leslee Breene, a Contemporary Western Romance, is a story of a woman with a big heart, and a big debt.
Veterinarian Kimberly Dorn, runs a Wyoming ranch on which she keeps rescued animals, mostly horses and llamas. She's facing a large loan payment and the threat of greedy land developers. Gabe Trent, from Montana, is a wildlife photographer and filmmaker who needs a temporary place to stay while working in the area, and rents a building on Kimberly's ranch.
Sparks are ignited, but Kimberly must keep reminding herself that Gabe is just passing through. One of the highlights of the book is when a llama gives a complicated birth and Kim and Gabe assist.
The intriguing love interest is well handled. Breene also does a good job of portraying the personalities of the animals in her charge. Readers have an opportunity to learn about horses, llamas, and emus as Kimberly conducts her daily business.
Starlight Rescue is a fun read, full of life's passions, compassion, and vivid Wyoming landscapes. For more information about the author, visit www.LesleeBreene.com.