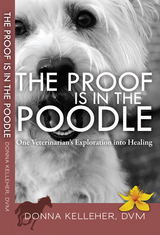 The Proof is in the Poodle: One Veterinarian's Exploration into Healing by Donna Kelleher, DVM, gives readers a chance to explore alternatives to traditional treatment for ailing dogs, cats and horses. Kelleher seeks to treat the whole animal, the physical, emotional and spiritual facets of their lives.
In her youth, Kelleher works on Saturdays with Iris, a neighborhood healer. Gardening with Iris, Kelleher learns the healing qualities of plants, how to preserve them, how to prepare them to make teas or salves. From Iris, she also learns that public opinion isn't as important as following your heart.
While attending Washington State University College of Veterinary Medicine, Kelleher becomes aware of certain practices that are contrary to what she believes would be better, more effective healing treatments. She finds the common practice of dispensing chemicals repugnant, of euthanasia as being a choice too easily taken.
Kelleher becomes further trained in veterinary acupuncture and chiropractic medicine and becomes a member of the Veterinarian Botanical Medical Association. Using these skills along with those she learned from Iris, her childhood mentor, she finds ways to holistically treat animals without pharmaceutical intervention.
Not everyone will agree with Dr. Kelleher's views. Eking out another week of an old dog's life may be difficult for many to grasp. But to cure a disease with herbs rather than with chemicals that often introduce harmful side-effects, may make sense to many.
The Proof is in the Poodle: One Veterinarian's Exploration into Healing offers well-founded viewpoints on healing. Whether or not you'd want to take this path, the small volume offers enlightened opinions on healing and treating the whole animal. The book is written with humor and heart.
To learn more about Donna Kelleher, DVM, visit www.wholepetvet.com