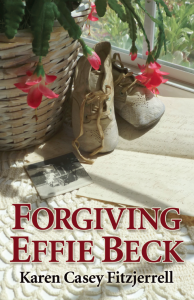 Karen Casey Fitzjerrell has done it again, she's written another outstanding novel. In her first book, The Dividing Season, the native Texan spins a story set in the early 1900s. In her latest work, Forgiving Effie Beck, Fitzjerrell takes us to the Great Depression years, the decade preceding World War II.
Mike Lemay had been one of those men standing in endless bread lines, hungry, without sustainable work. When he'd left the indignities and human misery in North Carolina, he felt beaten. Through President Roosevelt's New Deal program, he managed to get a job with the Federal Writer's Project (FWP) to work as an interviewer. The idea of FWP was to interview people from all over the country and compile the stories into a series of volumes. With the promised pay, Mike would send money home to his younger brother and his family, who were also taking care of their widowed mother.
He walks and hitches cross country to the tiny town of Cooperville, Texas. He manages to find a place to stay at Cora Mae Travis's place in a separate little building they call the tank house. Cora's daughter, Jodean, handles the rental business along with their home-based beauty parlor she and her mother operate.
Almost immediately upon Mike's arrival, an old-time resident, eccentric Effie Beck disappears. Although a recluse with few friends, Effie's disappearance is a matter of concern and the townspeople organize and begin a search. Mike is drawn into the mystery.
Effie's disappearance isn't the only mystery. Mike senses that Jodean carries a secret. Cora Mae's despicable attitude toward her daughter heightens the mystery. As Mike meets the townspeople, he must sort gossip from fact. There's always plenty to talk about, but some people are close-lipped and Mike has to skillfully ferret out the truth.
Fitzgerrell draws her characters so clearly, I felt I'd known these people all my life. Each character is fine-tuned and as real as my next door neighbor. Rancher Red and Ada and their love for each other and their children is obvious, but then they, too, have a secret. Everyone knows that the sheriff's wife has a secret, but really, they don't have a clue as to the real story. As Mike delves into long-held secrets, all the while trying to solve Effie Beck's disappearance, he learns about himself and faces his own needs.
For true reading pleasure, read this Depression-era novel. I couldn't believe how fast the pages flew by. Dinner waited, bedtime waited, my own writing was put aside until I finished this compelling novel. I recommend reading this book straight through, then return to the Prologue for an intriguing full-circle.
Forgiving Effie Beck is available in trade paperback and ebook formats. For more information about the author, visit www.karencaseyfitzjerrell.com