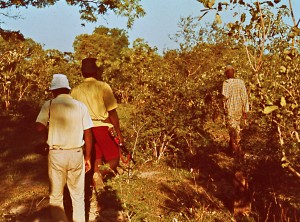 An excerpt from Tubob: Two Years in West Africa with the Peace Corps
Mr. Lopi, superintendent of the UN well digging project and Bruce's counterpart, returned upriver to his home and workplace about a month after my husband Bruce started as Mechanical Advisor. Apparently Mr. Lopi had been working downriver for the last several weeks. Mr. Lopi had become a man of stature and had a job of importance and leadership, bringing water to areas desperate for this precious commodity. Mr. Lopi had two wives and seventeen children. Amazingly, his salary after working for his government for about twenty years was equal to the modest monthly living allowance we each received, a sum many single volunteers found inadequate.
I marveled that Gambians managed at all. Of course, most people where we lived didn't pay rent, didn't pay utilities because there weren't any, didn't have cars, and medical attention was paid by the government. Still, they needed clothing and what food they didn't grow.
I found Mr. Lopi appealing. Tall, he had that amazing African male physique. My association with him was very different from Bruce's. Although they managed a cordial relationship, Bruce was often frustrated and felt that Mr. Lopi based decisions on political advantage rather than public need. Bruce, totally uninterested in the politics of the project, just wanted to get the job done.
One evening Mr. Lopi invited us on a bush pig (wild boar) hunt. Muslims wouldn't eat "the filthy swine," so we weren't sure what we would do if we got one, but we went along for the adventure. Of the four of us, Mr. Lopi was the only one carrying a gun, a big, old single-shot shotgun. We loved the adventure, tramping around in an area we hadn't seen before. We followed a rough path through scrub forest, sort of like a safari. We didn't find our bush pig but it was a fun adventure. Outings like this helped make our stay memorable and, I felt, closer to the people.
Note: To leave a comment, click on "Reply" below.