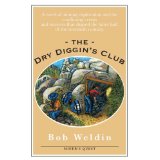 The Dry Diggin's Club by Bob Weldin is an ideal novel for readers interested in geology, particularly in mineral discovery and mining in the 1960's. More than that, the novel delves into the personal aspects of the miner persona, particularly into the life of a young woman, Sara, who braves the masculine world of mining.
Sara Mullins and her twin brother Steve are the children of a Montana rancher/miner and a mother who is head of the Mathematics Department at the University of Montana. Sara works along side her dad and brother at the ranch tending cattle and logging on their own land, and also at the family gold mine situated on their ranch property. Because of the huge distances involved, both Sara and Steve get pilot licenses at the age of sixteen. The children benefit from the hard work of ranch life, but also from the intellectual influence of their academic mother.
After graduating from college in the 1960's, the twins are eager for their next step. Steve plans to attend law school and get a degree that will equip him to practice law in the field of geology. Sara is eager to have practical field experience and gets a job working for a mining company. She is met with scepticism–a female mining professional is highly unusual. She is offered and accepts other positions, each time gaining in responsibilities and stature. She finds she must repeatedly prove herself in a segment of the industry primarily reserved for college educated, macho men. Sara has neither the support of management nor the protection of a union. As a field geologist, she proves herself capable, but meets with challenges–and dangers–along the way.
Sara and her brother become involved in the Dry Diggin's Club, a clandestine group whose membership network for pleasurable, economic and intellectual advantage. Inevitably, Sara becomes romantically involved with a fellow geologist which bring unexpected complexities and consequences into her life.
The Dry Diggin's Club offers an in-depth examination of northwest mineral mining as it was in the '60's. Readers learn how mineral discovery and the resultant mining was conducted. It was a tough field, not only because of unforgiving terrain, but also because of the secrecy shrouding findings. Although mining and minerals have never been high on my list of interests, I found this book not only educational, but a fun, worthwhile read. Author Bob Weldin speaks with authority having made a career in the mining industry. Now retired, he is a sought after speaker on the subjects of mining history, mineral deposits, wilderness areas and humor.
The Dry Diggin's Club is available in both trade paperback and e-book formats.