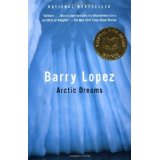 Arctic Dreams by Barry Lopez is a compelling masterpiece about the Arctic, the mysterious land of stunted forests, frozen seas, and animals perfectly suited to the harsh far north.
The book offers exquisite descriptions of the biology, anthropology, and history of a land few of us will ever see. The arctic's harshness has carved a way of life unknown to all but a few. Through the centuries, various countries have sent men to explore this mysterious land, and more often than not, the explorers did not live to tell about it.
Arctic Dreams is not a book you rush through. Nor does the author hurry through his descriptions of the animals, plants, sea life, or the frozen sea itself that is both the giver and taker of life.
Lopez's keen observation of life is amazing in its scope. He is an uncompromising defender of the wild country and its native inhabitants, and shares minute details of the far north. He lingers with his description of the polar bear, its habits, its ability to not only survive but thrive in this cold country. He shares his fascination of the narwhal with its ivory tusk spiraling out of its forehead. This "unicorn of the sea" lives year round in the Arctic waters of Greenland, Canada and Russia. Many animals, birds and sea life are discussed in great detail: how they survive, how they relate to each other as sources of food, and how they serve the native people.
The author speaks highly of the Eskimos and normally uses that broader term for the native Arctic people throughout the book. Eskimos today more often speak of themselves in terms or their origin, such as "Inuit" that refers specifically to Eskimos of the eastern Canadian Arctic. Lopez has high regard for the Eskimos' skill of survival, of observation, and adaptation to the harsh environment.
Memorable moments in the book stay with me. In describing a particular scene at Melville Bay, Lopez states, "It was so beautiful it made you cry," but in the next breath, while looking at an iceberg, he says, "It was so beautiful it made you afraid."
Lopez' Arctic is a land of contradictions and mystery, of rare, raw beauty. Through Barry Lopez's precise and thorough descriptions, I experienced a sense of this frozen landscape and could see, through his observant eyes, the beauty of this wild place.
If you're a lover of nature and value detailed descriptions, you will appreciate Arctic Dreams. It's a scholarly and engaging Arctic experience. To learn more about the author, visit http://www.barrylopez.com/