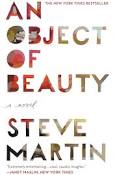 I knew Steve Martin was a comedian and actor. More recently I saw him perform on the banjo and was impressed. But an author? I hadn't known, yet he's written three novels, three works of nonfiction, plus plays and screenplays. I just finished An Object of Beauty, A Novel, and continue to be impressed with his talents. Not only is he an accomplished writer, he is a buyer, seller and lover of art. In this novel, he demonstrates his depth of knowledge of fine art as he weaves a story of the art world and its personalities.
The novel is written with an underlying theme in first person, Daniel Franks, an art reporter. Interestingly, the book is also presented in third person, as seen through Daniel Franks' eyes, when dealing with Lacey Yeager, a young, ambitious art dealer who climbs New York's art and social world. The novel takes place in the 1990s though the present time. As Lacey learns the ins and outs of dealing in art, she learns that a dealer doesn't "have to sell paintings. All you have to do is put a good picture in front of a knowledgeable collector and stand back." But there's an art to that, and her ambition knows no bounds. Neither do her scruples.
An Object of Beauty is an enjoyable read as it delves into the art world and the people who run it. Twenty-two four-color art reproductions are woven throughout the novel, often as part of the story. I found the book not only entertaining, but I learned about the business side of art, its schemes and tactics.