Note: The following is taken in part from my memoir, Sailing with Impunity: Adventure in the South Pacific.
The challenge of cooking at sea can be daunting. Be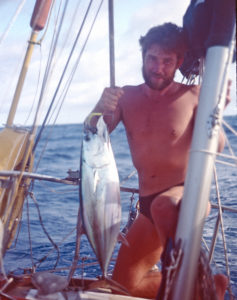 fore we left on our 13,000-mile voyage through the South Pacific aboard our sailboat, Impunity, I tackled the task of determining our grocery needs for two years.
Many offshore sailboats don't have refrigeration, nor did ours. Refrigeration systems often break down in rough seas, leaving sailors without food they had counted on. Luckily, our 40-foot sailboat had a lot of storage space below decks.
After much reading and talking with sailors who had "been there," we learned what worked and what didn't, to plan ahead, keep it simple, and to not rely on buying it there.
I wanted to ensure we ate healthy foods, but knew the limitations and challenges of cooking at sea on a rolling, pitching boat. We bought bulk rice, pasta, dried beans, peas, and lentils. For dry storage, I used Seal-a-Meal and heavy plastic bags. In each bag I measured enough for two meals for both of us. For instance, once at sea I planned to prepare at one time enough rice for two meals. We'd have it the first meal with something like a tin of roast beef and canned green beans. The next night I'd use the already cooked rice and make Spanish rice, sautéing onion, and adding canned tomatoes and spices to the cooked rice. I had several simple meals in mind which later turned out to be a great help when cooking at sea.
We also dehydrated and vacuum-sealed fruit–apples, peaches, and pears–which proved to be wonderful additions to our morning oatmeal. Also, we often used these packages of dehydrated fruit as gifts when invited aboard other boats or to islanders' homes..
I made lists of meals I could fix at sea, calculating how much we would need over a two-year period. We knew that in some ports of call we could buy supplies, and others perhaps not. From all that we read, food in Polynesia was expensive. We hoped to buy fresh fruit, vegetables and bread when reaching landfalls, and use our stored supplies for the basics.
We planned to fish while at sea, but knew that we couldn't count on fish alone, or even that we'd have success with our equipment. As it turned out, we didn't catch fish on the way, but after learning what equipment the "locals" used, a double hook with 120-pound test, we had good luck on the return voyage.
We'd heard the argument: Why bother taking all that food? Wherever you go, people have food. You can eat what they eat. That's true, but island people often eat what they grow themselves, like taro leaves and roots, eggs and meat from their own chickens, or fish they've caught at sea. After researching the possibilities, we decided not to rely on local fare.
We were glad we'd decided to provision for the long haul. We felt we ate more nutritionally balanced and far less expensive meals by planning ahead.